Using contact data
At a glance
Contact data from appointments, tasks, text messages, emails, and notes can be stored or selected, refer to page.
Displaying a contact or selecting a phone number
1.

"Use contact data"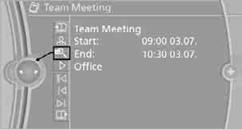 2. To display a contact or dial a phone number:
> Select a contact to display a detailed view of the contact.
> Select a phone number to directly establish a connection.
Storing contact data
1.

"Use contact data"
2. Highlight a phone number or email address.
3. Open "Options".
4. "Add to existing contact" or "Store as new contact"