Using contact data
At a glance
Contact data from appointments, tasks, text messages, emails, and notes can be stored or selected, refer to page.
Displaying a contact or selecting a phone number
1.

"Use contact data"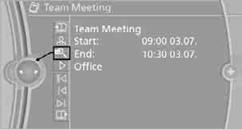 2. To display a contact or dial a phone number:
> Select a contact to display a detailed view of the contact.
> Select a phone number to directly establish a connection.
Storing contact data
1.

"Use contact data"
2. Highlight a phone number or email address.
3. Open "Options".
4. "Add to existing contact" or "Store as new contact"
See also:
Applications
Please try the system first during sparse traffic and clear road conditions so that you can get used to the system. After you have experience and understand the system, only then use it during ...
The concept
The system is functional at speeds beginning at approx. 20 mph/30 km/h. It maintains the speed that was set using the control elements on the steering wheel. The system brakes on downhill gradie ...
End of warning
The warning ends: Automatically after approx. 3 seconds. When returning to your own lane. When braking hard. When using the turn signal. ...