Using contact data
At a glance
Contact data from appointments, tasks, text messages, emails, and notes can be stored or selected, refer to page.
Displaying a contact or selecting a phone number
1.

"Use contact data"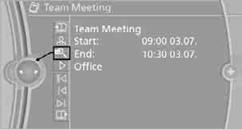 2. To display a contact or dial a phone number:
> Select a contact to display a detailed view of the contact.
> Select a phone number to directly establish a connection.
Storing contact data
1.

"Use contact data"
2. Highlight a phone number or email address.
3. Open "Options".
4. "Add to existing contact" or "Store as new contact"
See also:
Switch off the engine during longer stops
Switch off the engine during longer stops, e.g., at traffic lights, railroad crossings or in traffic congestion. Fuel savings are achieved after the vehicle is switched off for only approx. 4 s ...
Look well ahead when driving
Avoid unnecessary acceleration and braking. By maintaining a suitable distance to the vehicle driving ahead of you. Driving smoothly and looking ahead reduces fuel consumption. ...
Selecting a station
1. "Radio". 2. "FM" or "AM". 3. Select the desired station. All saved stations are stored for the remote control currently in use. ...