Calendar
Displaying calendar
Appointments from the last 20 days and the next 50 days can be displayed.
1. "Office"
2. "Calendar"
Appointments of the current day are displayed.
Selecting calendar day
1. Select date.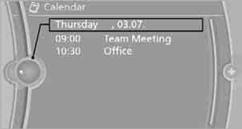 2. Select desired day or date.
> "Next day"
> "Date:"
> "Previous day"
> "Today"
Displaying appointment
1. Select the desired appointment.
2. To scroll through appointment, if necessary:
> Turn the controller.
> Select the


symbol.
Using contact data
Contact data from appointments, tasks, text messages, emails, and notes can be stored or selected.
Reading an appointment aloud
Reading an appointment aloud.
See also:
Exceptional performance assisted by innovative design features
The exceptional performance of the new engine is due last but not least to various innovative features of the core engine. For example, balancer shafts positioned at different heights result in op ...
Car care products
BMW recommends using cleaning and care products from BMW, since these have been tested and approved. Car care and cleaning products Follow the instructions on the container. When cleaning the ...
Side airbags
In a lateral impact, the side airbag supports the side of the body in the chest and lap area. ...