Calendar
Displaying calendar
Appointments from the last 20 days and the next 50 days can be displayed.
1. "Office"
2. "Calendar"
Appointments of the current day are displayed.
Selecting calendar day
1. Select date.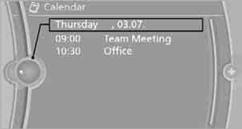 2. Select desired day or date.
> "Next day"
> "Date:"
> "Previous day"
> "Today"
Displaying appointment
1. Select the desired appointment.
2. To scroll through appointment, if necessary:
> Turn the controller.
> Select the


symbol.
Using contact data
Contact data from appointments, tasks, text messages, emails, and notes can be stored or selected.
Reading an appointment aloud
Reading an appointment aloud.
See also:
Diagnosis OBD
On the driver's side is an OBD socket for checking components relevant to the composition of the vehicle's emissions. ...
Configuring the prewarning
After the warning function is switched on, the following can be set via the iDrive: The prewarning can be switched on/off. The time of the prewarning can be set. These settings have no effe ...
Managing a subscription
To be able to enable or unsubscribe from the channels, you must have reception. It is usually at its best when you have an unobstructed view of the sky. The channel name is displayed in the st ...