Calendar
Displaying calendar
Appointments from the last 20 days and the next 50 days can be displayed.
1. "Office"
2. "Calendar"
Appointments of the current day are displayed.
Selecting calendar day
1. Select date.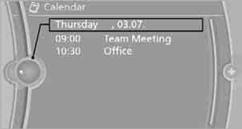 2. Select desired day or date.
> "Next day"
> "Date:"
> "Previous day"
> "Today"
Displaying appointment
1. Select the desired appointment.
2. To scroll through appointment, if necessary:
> Turn the controller.
> Select the


symbol.
Using contact data
Contact data from appointments, tasks, text messages, emails, and notes can be stored or selected.
Reading an appointment aloud
Reading an appointment aloud.
See also:
Tow-starting and towing
Automatic transmission: transporting your vehicle Note Your vehicle is not permitted to be towed. Therefore, contact a service center in the event of a breakdown. Do not have the vehicle towe ...
Power failure
After a temporary power loss, some equipment needs to be reinitialized. Individual settings need to be reprogrammed: ▷ Seat and mirror memory: store the positions again. ▷ Time: upd ...
Resetting the system
Reset the system after each correction of the tire inflation pressure and after every tire or wheel change. 1. "Vehicle Info" 2. "Vehicle status" 3. "Reset" 4. S ...