Storing favorites
Up to 30 favorites can be stored in the favorites list. Available favorites are artist, track, game, league and team.
Storing the artist, track or game
It is only possible to store favorites that are currently being broadcast. The channel information must be available.
1. "Radio"
2. "Satellite radio"
3. Select "All channels" or the desired category.
4. Select the desired channel.
5. Press the controller again.
6. Select the artist, track or game.
Storing the league or team
Leagues or teams can be added to the favorites from a selection list.
1. "Radio"
2. "Satellite radio"
3.

"Manage favorites"
4. "Add sports information"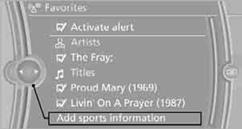 5. Select the desired league.
6. Select "Add all teams" or a desired team.
See also:
Street does not exist in the destination city/town
The desired street does not exist in the specified city/town because it belongs to another part of the city/town. 1. "Navigation" 2. "Enter address" 3. Select "Street&q ...
Enlarging the cargo area
General information The cargo area can be enlarged by folding down the rear seat backrests. The rear seat backrest is divided into two parts at a ratio of 60 to 40. If equipped with through-l ...
Last destinations
At a glance The destinations previously entered are stored automatically. The destinations can be called up and used as a destination for destination guidance. Calling up the last destinat 1. ...