Storing favorites
Up to 30 favorites can be stored in the favorites list. Available favorites are artist, track, game, league and team.
Storing the artist, track or game
It is only possible to store favorites that are currently being broadcast. The channel information must be available.
1. "Radio"
2. "Satellite radio"
3. Select "All channels" or the desired category.
4. Select the desired channel.
5. Press the controller again.
6. Select the artist, track or game.
Storing the league or team
Leagues or teams can be added to the favorites from a selection list.
1. "Radio"
2. "Satellite radio"
3.

"Manage favorites"
4. "Add sports information"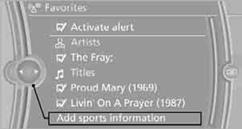 5. Select the desired league.
6. Select "Add all teams" or a desired team.
See also:
USB audio interface/audio interface for mobile phone
OverviewIt is possible to connect external audio devices. They can be operated via iDrive. Sound is output over the vehicle speakers. Options for connecting external devices > Connection via US ...
Terminating destination guidance
1. "Navigation" 2. "Map" 3. "Guidance" 4. "Stop guidance" ...
Tasks
Displaying task listDisplay open tasks that must be completed within the next 90 days. 1. "Office" 2. "Tasks" Sorting task list1. Select the top line in the ta ...