Storing favorites
Up to 30 favorites can be stored in the favorites list. Available favorites are artist, track, game, league and team.
Storing the artist, track or game
It is only possible to store favorites that are currently being broadcast. The channel information must be available.
1. "Radio"
2. "Satellite radio"
3. Select "All channels" or the desired category.
4. Select the desired channel.
5. Press the controller again.
6. Select the artist, track or game.
Storing the league or team
Leagues or teams can be added to the favorites from a selection list.
1. "Radio"
2. "Satellite radio"
3.

"Manage favorites"
4. "Add sports information"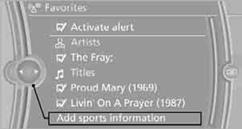 5. Select the desired league.
6. Select "Add all teams" or a desired team.
See also:
Storing a station
1. "Radio". 2. "FM" or "AM". 3. Highlight the desired station. 4. Press the controller for an extended period. 5. Select the desired memory location. The stations ...
Selecting menu items
Menu items shown in white can be selected. 1. Turn the controller until the desired menu item is highlighted. 2. Press the controller. Menu items in the Owner's Manual In the Owner's Manual, ...
Buttons at a glance
1 System on/off, interrupt 2 Resume speed 3 Store speed* 4 Reduce distance 5 Store, maintain/change speed 6 Increase distance ...