Storing favorites
Up to 30 favorites can be stored in the favorites list. Available favorites are artist, track, game, league and team.
Storing the artist, track or game
It is only possible to store favorites that are currently being broadcast. The channel information must be available.
1. "Radio"
2. "Satellite radio"
3. Select "All channels" or the desired category.
4. Select the desired channel.
5. Press the controller again.
6. Select the artist, track or game.
Storing the league or team
Leagues or teams can be added to the favorites from a selection list.
1. "Radio"
2. "Satellite radio"
3.

"Manage favorites"
4. "Add sports information"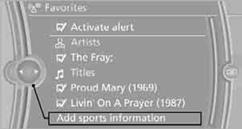 5. Select the desired league.
6. Select "Add all teams" or a desired team.
See also:
Measurement
Measurements are made by ultrasound sensors in the bumpers. The range is approx. 6 ft/2 m. An acoustic warning is first given: ▷ By the front sensors and two rear corner sensors at approx ...
Under the Hood
The 640i is powered by a 315-horsepower, turbocharged 3.0-liter six-cylinder engine. Its peak torque rating is 332 pounds-feet. BMW cites a zero to 60 mph time of 5.5 seconds for both the coupe an ...
Notes
Your vehicle is equipped with run-flat tires,as standard equipment They do not need to be replaced immediately in the event of a puncture. When mounting new tires or changing from summer to wi ...