Controls
The audio and video sources can be controlled using the:
> Buttons near the CD/DVD player
> iDrive
> Buttons on the steering wheel,
> Programmable memory keys,
> Voice activation system
Buttons in the area of the CD/DVD
player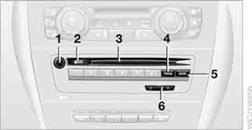 1. Sound output for entertainment on/off, volume
> Press: switch on/off
When you switch on the unit, the last set radio station or track is played.
> Turn: adjusting the volume
2.

Eject the CD/DVD
3. CD/DVD drive
4. FM / AM: change the radio station waveband
5. MODE: change the audio and video sources
6.

Station scan/track search
> Change the radio station
> Select the track for the CD/DVD player, CD changer and certain multimedia devices