Coupe: roof-mounted luggage rack
A special rack system is available as an option for your BMW. Comply with the directions given in the installation instructions.
Mounting points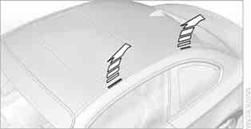 Fold open the cover.
Loading roof-mounted luggage rackBecause roof racks raise the vehicle's center of gravity when loaded, they have a major effect on vehicle handling and steering response.
You should therefore always remember not to exceed the approved roof load capacity, the approved gross vehicle weight or the axle loads when loading the rack.
You can find the applicable data under Weights on page 245.
The roof load must be distributed uniformly and should not be too large in area. Heavy items should always be placed at the bottom. Be sure that adequate clearance is maintained for tilting the glass roof, and that objects do not project into the opening path of the trunk lid.
Fasten roof-mounted cargo correctly and securely to prevent it from shifting or falling off during the trip.
Drive smoothly. Avoid sudden acceleration and braking maneuvers. Take corners gently.
See also:
Vehicle equipment
All standard, country-specific and optional equipment that is offered in the model series is described in this chapter. Therefore, equipment is also described that is not available in a vehicle, ...
Changing the trip direction
Intermediate destinations are displayed in reverse order in the list. 1. "Map" 2. "Guidance" 3. Open "Options". 4. "Reverse order of trip dest." ...
Switching off
Press the button repeatedly until the LEDs go out. ...