Digital compass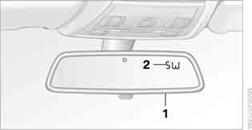 1. Adjustment button
2. Display
The display shows you the main or secondary compass direction in which you are driving.
Operating principle
You can call up various functions by pressing the adjustment button with a pointed object such as a pen or similar item. The following adjustment options are displayed one after the other, depending on how long you keep the adjustment button pressed:
> Press briefly: switch display on/off
> 3 to 6 seconds: set compass zone
> 6 to 9 seconds: calibrate compass
> 9 to 12 seconds: set left-hand/right-hand steering
> 12 to 15 seconds: set the language
Setting compass zones
Set the compass zone corresponding to your vehicle's geographic location so that the compass can function correctly; refer to the world map with compass zones.
To set the compass zone, press the adjustment button for approx. 3-4 seconds. The number of the compass zone set is shown in the display.
To change the zone setting, briefly press the adjustment button repeatedly until the display shows the number of the compass zone corresponding to your current location.
The compass is operational again after approx.
10 seconds.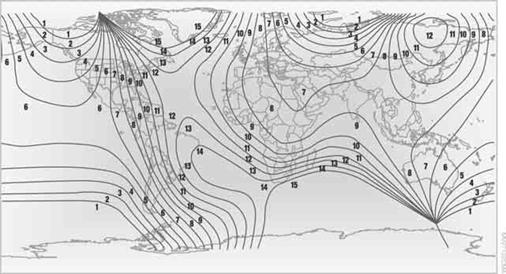 Calibrating the digital compass
The digital compass must be calibrated in the following situations:
> An incorrect compass direction is shown.
> The compass direction shown does not change although the direction of travel does.
> Not all compass directions are shown.
Procedure
1. Make sure that no large metal objects or overhead power lines are in the vicinity of your vehicle and that you have enough space to drive in a circle.
2. Set the currently valid compass zone.
3. Convertible: ensure that the convertible top is fully closed.
4. Press the adjustment button for approx.
5. Convertible: open the convertible top fully and repeat step 4.
6-7 seconds to call up C. Then drive in at least one full circle at a speed of no more than 4 mph/7 km/h.
If calibration is successful, the display changes from C to a compass direction.
Setting right-hand/left-hand steering
Your digital compass is factory-set to righthand or left-hand steering, in accordance with your vehicle.
Set the language
You can set the language of the display: Press the adjustment button for approx.
12-13 seconds. Briefly press the adjustment button again to switch between English, "E", and German, "O".
The setting is automatically saved after approx.
10 seconds.
See also:
Calling Customer Relations
Vehicle not equipped with BMW Assist or TeleService 1. "BMW Assist" or "ConnectedDrive" 2. "Customer Relations" The Customer Relations phone number is displayed. If ...
Calendar
Displaying calendarAppointments from the last 20 days and the next 50 days can be displayed. 1. "Office" 2. "Calendar" Appointments of the current day are displayed. ...
Cargo loading
To avoid loading the tires beyond their approved carrying capacity, never overload the vehicle. Overloading can lead to overheating and increases the rate at which damage develops inside the tire ...