Date
The settings are stored for the remote control currently in use, refer also to Personal Profile on page 28.
Setting the date
In the instrument cluster
To set the dd/mm or mm/dd date format, refer to Setting the date format below.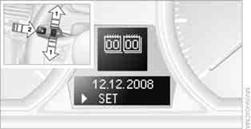 1. Push button 1in the turn signal/high beam lever up or down repeatedly until the appropriate symbol appears in the display, accompanied by the date and the word "SET".
2. Press button 2.
3. Use button 1to set the day of the month.
4. Press button 2to confirm the entry.
5. Set the month and the year in the same way.
6. Press button 2.
The system stores the new date.
Via iDrive
1. "Settings"
2. "Time/Date"
3. "Date:"
4. Turn the controller until the desired day is displayed, and press the controller.
5. Create the necessary settings for the month and year.
The date is stored.
Setting the date format
1. "Settings"
2. "Time/Date"
3. "Format:"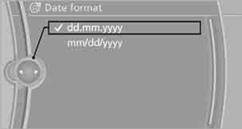 4. Select the desired format. The date format is stored.
See also:
Variable sport steering
The variable sport steering increases the steering angle of the front wheels at large steering wheel angles, e.g., in tight curves or when parking. Steering becomes more direct. It also varies t ...
Adjusting electrically
Adjusting electrically 1. Forward/backward 2. Height 3. Seat tilt Backrest 4. Backrest Differs depending on seat: Differs depending on seat 1. Backrest 2. Height Additional depending o ...
General driving notes
Close the trunk lid Only drive with the trunk closed. Failure to do so may endanger passengers or other road users or may damage the vehicle in the event of an accident or a braking and evasive ma ...