Parking brake
The parking brake is primarily intended to prevent the vehicle from rolling while parked; it brakes the rear wheels.
Indicator lamp

The indicator lamp is lit, and when you drive off a signal sounds in addition. The parking brake is still applied.

Indicator lamp for Canadian models.
Applying
The lever locks in position automatically.
Releasing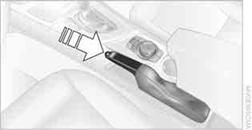 Pull slightly upwards, press the button and lower the lever.
In exceptional cases, if the parking brake has to be used to slow or stop the car, do not pull the lever up too hard. In doing so, continuously press the button of the parking brake lever.
Otherwise, excessive force on the parking brake can lock up the rear wheels and cause the rear of the car to swerve.

To prevent corrosion and one-sided braking action, occasionally apply the parking
brake lightly when the vehicle is slowly coming to a stop if the traffic conditions are suitable. The brake lamps do not light up when the parking brake is applied.
See also:
Notes
Your vehicle is equipped with run-flat tires,as standard equipment They do not need to be replaced immediately in the event of a puncture. When mounting new tires or changing from summer to wi ...
Example: playing back a CD
1. Switch on the Entertainment sound output if necessary. 2. Press the button on the steering wheel. 3. ›C D and multimedia‹ The medium last played is played back. 4. Press the button ...
Status of this Owner's Manual at time of printing
The manufacturer of your vehicle pursues a policy of constant development that is conceived to ensure that our vehicles continue to embody the highest quality and safety standards. In rare cas ...