Parking brake
The parking brake is primarily intended to prevent the vehicle from rolling while parked; it brakes the rear wheels.
Indicator lamp

The indicator lamp is lit, and when you drive off a signal sounds in addition. The parking brake is still applied.

Indicator lamp for Canadian models.
Applying
The lever locks in position automatically.
Releasing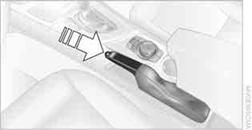 Pull slightly upwards, press the button and lower the lever.
In exceptional cases, if the parking brake has to be used to slow or stop the car, do not pull the lever up too hard. In doing so, continuously press the button of the parking brake lever.
Otherwise, excessive force on the parking brake can lock up the rear wheels and cause the rear of the car to swerve.

To prevent corrosion and one-sided braking action, occasionally apply the parking
brake lightly when the vehicle is slowly coming to a stop if the traffic conditions are suitable. The brake lamps do not light up when the parking brake is applied.
See also:
PostCrash
In the event of an accident, the system can bring the car to a halt automatically without intervention by the driver in certain situations. This can reduce the risk of a further collision. Depr ...
BMW X5 xDrive50i: BMW's Twin-Turbocharged V-8.
The new BMW X5 xDrive50i takes its place as the flagship of the X5 family, yielding 400 horsepower at 5,500 rpm and 450 lb-ft of torque at 1,750 - 4,500 rpm from its twin-turbocharged 4.4 liter V- ...
A new interior
The new BMW 7-Series comes with one of the most luxurious interiors of any premium car. In addition to a new iDrive controller and larger 10.2-inch screen, owners will be able to programme frequen ...