Parking brake
The parking brake is primarily intended to prevent the vehicle from rolling while parked; it brakes the rear wheels.
Indicator lamp

The indicator lamp is lit, and when you drive off a signal sounds in addition. The parking brake is still applied.

Indicator lamp for Canadian models.
Applying
The lever locks in position automatically.
Releasing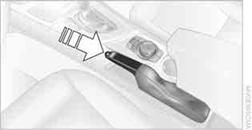 Pull slightly upwards, press the button and lower the lever.
In exceptional cases, if the parking brake has to be used to slow or stop the car, do not pull the lever up too hard. In doing so, continuously press the button of the parking brake lever.
Otherwise, excessive force on the parking brake can lock up the rear wheels and cause the rear of the car to swerve.

To prevent corrosion and one-sided braking action, occasionally apply the parking
brake lightly when the vehicle is slowly coming to a stop if the traffic conditions are suitable. The brake lamps do not light up when the parking brake is applied.
See also:
Pairing and connecting
Pairing the mobile phone To avoid becoming distracted and posing an unnecessary hazard both to your own vehicle's occupants and to other road users, only pair the mobile phone while the vehicl ...
Insert the remote control into the ignition lock
Insert the remote control into the ignition lock Insert the remote control all the way into the ignition lock. Radio ready state is switched on. Individual electrical consumers can operate. C ...
AUTO program
Press the button. Air volume, air distribution, and temperature are controlled automatically: Depending on the selected temperature, AUTO intensity, and outside influences, the air is directed ...