Entering letters and numbers
1. Turn the controller: select the letters or numbers.
2. Select additional letters or numbers if needed.
3. "OK": confirm entry.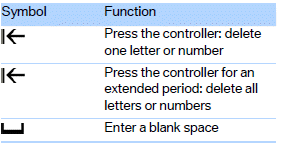 Switching between letters andnumbers
Depending on the menu, you can switch between entering letters and numbers:

Switching between uppercase and lowercase letters
Depending on the menu, you can switch between entering uppercase letters and lowercase letters: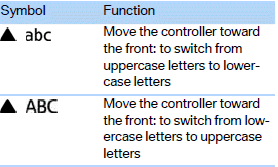 Entry comparison
Entry of names and addresses: the selection is narrowed down every time a letter is entered and letters may be added automatically.
The entries are continuously compared to the data stored in the vehicle.
> During entry, only letters for which there are data are offered.
> Destination search: town/city names can be entered with the spelling used in any of the languages available on the Control Display.
See also:
Lane information
On multi-lane roads, the recommended lanes are marked in the arrow view by a triangle. ▷ Solid triangle: best lane. ▷ Empty triangle: possible lane. However, another lane change may ...
Apps
At a glance Certain software applications of a suitable cell phone can be integrated in the vehicle. These software applications are displayed on the Control Display. Operation can be performe ...
Brake assistant
When you apply the brakes rapidly, this system automatically produces the maximum braking force boost. It thus helps to achieve the shortest possible braking distance during full braking. This ...