Entering letters and numbers
1. Turn the controller: select the letters or numbers.
2. Select additional letters or numbers if needed.
3. "OK": confirm entry.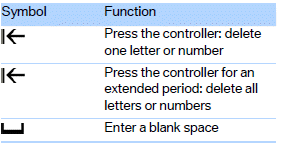 Switching between letters andnumbers
Depending on the menu, you can switch between entering letters and numbers:

Switching between uppercase and lowercase letters
Depending on the menu, you can switch between entering uppercase letters and lowercase letters: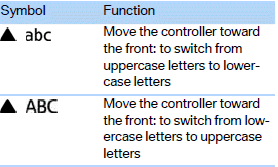 Entry comparison
Entry of names and addresses: the selection is narrowed down every time a letter is entered and letters may be added automatically.
The entries are continuously compared to the data stored in the vehicle.
> During entry, only letters for which there are data are offered.
> Destination search: town/city names can be entered with the spelling used in any of the languages available on the Control Display.
See also:
DTMF suffix dialing
DTMF suffix dialing can be used for gaining access to network services or for controlling devices, e.g., to make a remote inquiry of an answering machine. The DTMF code is needed for this purp ...
Contacts
...
Fold-out position of the wipers
Required when changing the wiper blades or under frosty conditions, for example. 1. Switch off the ignition. 2. Under frosty conditions, ensure that the wiper blades are not frozen onto the wind ...