Entering letters and numbers
1. Turn the controller: select the letters or numbers.
2. Select additional letters or numbers if needed.
3. "OK": confirm entry.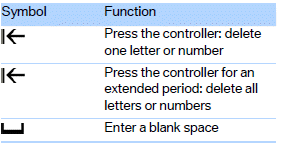 Switching between letters andnumbers
Depending on the menu, you can switch between entering letters and numbers:

Switching between uppercase and lowercase letters
Depending on the menu, you can switch between entering uppercase letters and lowercase letters: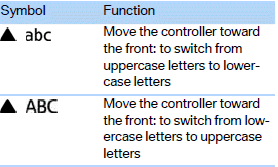 Entry comparison
Entry of names and addresses: the selection is narrowed down every time a letter is entered and letters may be added automatically.
The entries are continuously compared to the data stored in the vehicle.
> During entry, only letters for which there are data are offered.
> Destination search: town/city names can be entered with the spelling used in any of the languages available on the Control Display.
See also:
Deleting stored functions
Press and hold the left and right button on the interior rearview mirror simultaneously for approximately 20 seconds until the LED flashes rapidly. All stored functions are deleted. The functions ...
First aid kit
First aid kit The first aid kit is located in the cargo area in a storage compartment. Some of the articles have a limited service life. Check the expiration dates of the contents regularly a ...
Indication in the info display
The information from the onboard computer is shown in the info display in the instrument cluster. ...