Entering letters and numbers
1. Turn the controller: select the letters or numbers.
2. Select additional letters or numbers if needed.
3. "OK": confirm entry.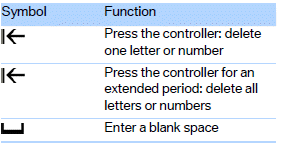 Switching between letters andnumbers
Depending on the menu, you can switch between entering letters and numbers:

Switching between uppercase and lowercase letters
Depending on the menu, you can switch between entering uppercase letters and lowercase letters: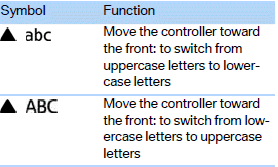 Entry comparison
Entry of names and addresses: the selection is narrowed down every time a letter is entered and letters may be added automatically.
The entries are continuously compared to the data stored in the vehicle.
> During entry, only letters for which there are data are offered.
> Destination search: town/city names can be entered with the spelling used in any of the languages available on the Control Display.
See also:
Controls
1 Change entertainment sources 2 Change station/track 3 Programmable memory buttons 4 Volume, on/off 5 Change wave band ...
Text messages
Calling the sender of a text message 1. Select the desired message. 2. Select the symbol. Saving the sender in the contacts 1. Highlight the desired message. 2. Open "Options". 3. &qu ...
Tachometer
Always avoid engine speeds in the red warning field. In this range, the fuel supply is interrupted to protect the engine. ...