Status information
Status box
The status box at the top right displays the following information:
> Time
> Current entertainment source
> Sound output ON/OFF
> Mobile phone network with strongest reception
> Telephone status
> Traffic reports reception
Status box symbols
Radio symbols
Telephone symbols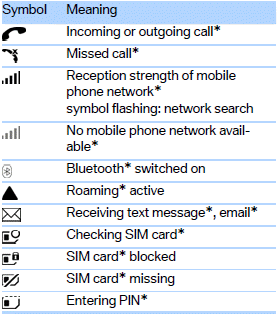 Entertainment symbols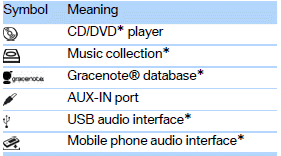 Other

See also:
Antilock Brake System ABS
ABS prevents locking of the wheels during braking. The vehicle remains steerable even during full brake applications, thus increasing active safety. ABS is operational every time you start the e ...
General information
Antifreeze for washer fluid Antifreeze is flammable. Therefore, keep it away from sources of ignition. Only keep it in the closed original container and inaccessible to children. Follow the in ...
Opening the favorites
If an activated favorite is played back, the following message appears for approx. 20 seconds: "Favorite alert!". "Favorites" Select the symbol while the message is shown. ...