Status information
Status box
The status box at the top right displays the following information:
> Time
> Current entertainment source
> Sound output ON/OFF
> Mobile phone network with strongest reception
> Telephone status
> Traffic reports reception
Status box symbols
Radio symbols
Telephone symbols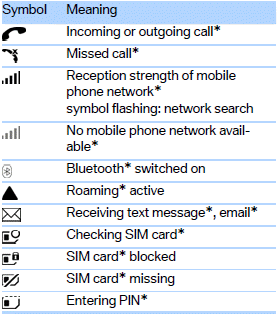 Entertainment symbols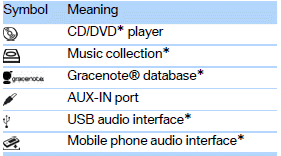 Other

See also:
Temperature
Turn the wheel to set the desired temperature. Turn the wheel to set the desired temperature. The automatic climate control achieves this temperature as quickly as possible, if necessary w ...
Deactivating/activating DTC Dynamic Traction Control
Activating the Dynamic Traction Control DTC provides maximum traction on loose ground. Driving stability is limited during acceleration and when driving in bends. Activating DTC Press the butt ...
Vehicle Overview
The X6, one of BMW's recent forays into SUV territory, is a tallish fastback that the company calls a sports activity coupe. With seating for four, it's basically a midsize SUV with four doors, ex ...