Comparison with ordinary remote control
The functions can be controlled by pressing the buttons or via Comfort Access.
Should a short delay occur when opening or closing the windows or the glass sunroof/panoramic glass sunroof, the system checks whether a remote control is located in the vehicle.
Please repeat opening or closing if necessary.
Unlocking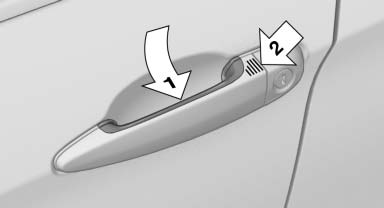 Unlocking
Fully grasp a door handle, arrow 1.
This corresponds to pressing the

button.
Locking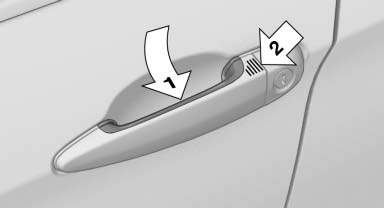 Locking
Touch the area on the door handle, arrow 2, with your finger for approx. 1 second.
This corresponds to pressing the

button.
To save battery power, ensure that the ignition and all electronic systems and/or power consumers are switched off before locking the vehicle.
If a remote control is detected within the vehicle, the vehicle does not lock or is unlocked again.
Convenient closing
Press the area, arrow 2, with your finger and hold.
In addition, the windows and the glass sunroof/ panoramic glass sunroof close.

Monitor the closing process
Watch during the closing process to be sure that no one is injured. Removing the hand from the door handle immediately stops the closing process.◀
Unlocking the tailgate separately
Press the button on the exterior of the tailgate.
This corresponds to pressing the

button.
If a remote control accidentally left in the cargo area is detected in the locked vehicle, the tailgate opens again.
The hazard warning flashers flash and a signal sounds.
Ignition on
Pressing the Start/Stop button switches the ignition on.
When doing so, do not depress the brake pedal, otherwise the engine will start.
Starting the engine
The engine can be started or the ignition can be switched on when a remote control is inside the vehicle. It is not necessary to insert a remote control into the ignition lock.
As long as no remote control is detected in the vehicle, it is only possible to restart the engine within approx. 10 seconds after it is switched off if no door has been opened.
Switching off the engine
▷ Remote control not in ignition lock:
After switching off the engine, the transmission is automatically switched into transmission position P.
▷ Remote control in ignition lock:
If transmission position N is engaged, the transmission remains in this position after the engine is switched off.
See also:
Display
1 Lane departure warning* 2 Active Cruise Control* 3 Desired speed 4 Navigation system* 5 Speed The collision warning*, Night Vision* pedestrian warning, or Check Control messages are display ...
Notes
Always make sure that safety belts are being worn by all occupants before driving away. Although airbags enhance safety by providing added protection, they are not a substitute for safety belts ...
Active steering
The conceptActive steering varies the turning angle of the front wheels in relation to steering wheel movements. It also varies the steering force required to turn the wheels depending on the spee ...