Timeshift
Approx. one hour of the program being broadcast on the channel currently being listened to is stored in a buffer. Prerequisite: the signal must be available.
The stored audio track can be played with a delay following the live broadcast. When the buffer is full, the older tracks are overwritten. The buffer is cleared when a new channel is selected.
Opening the timeshift function
1. "Radio"
2. "Satellite radio"
3.

"Replay - Time shift"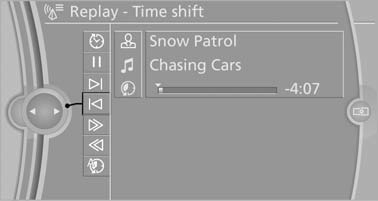 The red arrow shows the current playback position.
The time difference to the live broadcast is displayed next to the buffer bar. For live transmissions: "live".
Timeshift menu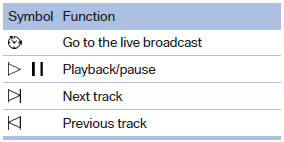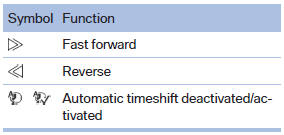 Automatic timeshift
When the function is activated, audio playback is stopped automatically in the event of:
Incoming and outgoing telephone calls.
Activation of the voice activation system.
Muting.
The audio playback then continues with a time delay.
To activate:
1. "Radio"
2. "Satellite radio"
3.

"Replay - Time shift"
4.

"Automatic time shift"
To deactivate:

"Automatic time shift".
See also:
All around the headliner
All around the headliner 1. Emergency Request 2. Glass sunroof 3. Indicator lamp for the front passenger airbags 4. Reading lamps 5. Interior lamps ...
Split screen map view
The map view can be selected for the split screen independently from the main screen. 1. Open "Options". 2. "Split screen" 3. Move the controller to the right repeatedly unt ...
Interior: First-class ambience, intelligent functionality.
A generous and versatile spatial concept, high-grade materials and a characteristic three-dimensional surface design provide the interior of the new BMW X3 with a modern, premium ambience and inte ...