At a glance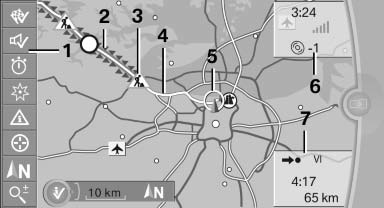 1 Function bar
2 Route section with traffic obstruction
3 Traffic sign for traffic obstruction
4 Planned route
5 Current location
6 Upper status field
7 Lower status field
Lines in the map
Streets and routes are displayed in different colors and styles depending on their classification. Dashed lines represent railways and ferry connections. Country borders are indicated by thin lines.
Traffic obstructions
Small triangles along the planned route indicate route sections with traffic obstructions, depending on the map scale. The direction of the triangles indicates the direction of the obstruction.
The traffic signs indicate the significance of the obstruction.
Red traffic sign: the obstruction affects the planned route or direction.
Gray traffic sign: the obstruction does not affect the planned route or direction.
Traffic bulletins.
Planned route
After destination guidance is started, the planned route is displayed on the map.
Status fields
Show/hide: press the controller.
Upper status field: time, telephone, and entertainment details.
Lower status field: symbol for active destination guidance, status of traffic bulletins, time of arrival, and distance to destination.
Function bar
The following functions are available in the function bar: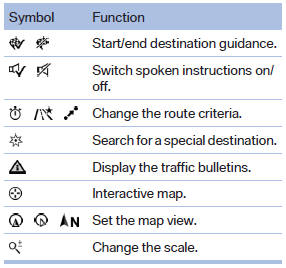 To change to the function bar, move the controller to the left.
See also:
Unpairing the mobile phone
1. "Telephone". 2. "Bluetooth® (phone)". 3. Highlight the mobile phone that is to be unpaired. 4. "Options" Open. 5. "Remove phone from list" ...
The concept
Two radar sensors below the rear bumper monitor the area behind and next to the vehicle at speeds above approx. 30 mph/50 km/h. The system indicates whether there are vehicles in the blind sp ...
General information
Instructions for voice activation system. To have the available spoken instructions read out loud: ›Voice commands‹ ...