Roof-mounted luggage rack
Note
Installation only possible in roof drip molding with flaps*. Your service center will be glad to advise you.
Roof racks are available as special accessories.
Attachment
Follow the installation instructions of the roof rack.
Roof drip rail with flaps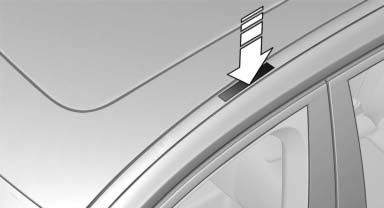 On the roof drip rail, press on the outside of the flap.
Mounting
The preparation for the mounting plate is located below the roof drip rail. Have the mounting plate installed by the service center before installation of a roof rack.
Be sure that adequate clearance is maintained for raising and opening the glass sunroof*.
Magnetic roof-mounted luggage rack
Because of the aluminum roof, magnetic roofmounted luggage racks cannot be mounted.
Loading
Because roof racks raise the vehicle's center of gravity when loaded, they have a major effect on vehicle handling and steering response.
Therefore, note the following when loading and driving:
Do not exceed the approved roof/axle loads.
Distribute the roof load uniformly.
The roof load should not be too large in area.
Always load the heaviest pieces on the bottom.
Secure the roof luggage firmly, e.g., tie with ratchet straps.
Do not let objects project into the opening path of the trunk lid.
Drive smoothly. Avoid sudden acceleration and braking maneuvers. Take corners gently.
See also:
Rear
In the center armrest. Pull the center armrest forward at the strap. To open: press the button. To close: push both covers back in, one after the other. Pushing back the covers Push back the ...
General information
Do not adjust the seat while driving Do not adjust the driver's seat while driving, or the seat could respond with unexpected movement and the ensuing loss of vehicle control could lead to an acc ...
Brightness
Setting the brightness To set the brightness of the Control Display: 1. "Settings" 2. "Control display" 3. "Brightness" 4. Turn the controller until the desired br ...