Roof-mounted luggage rack
Note
Installation only possible in roof drip molding with flaps*. Your service center will be glad to advise you.
Roof racks are available as special accessories.
Attachment
Follow the installation instructions of the roof rack.
Roof drip rail with flaps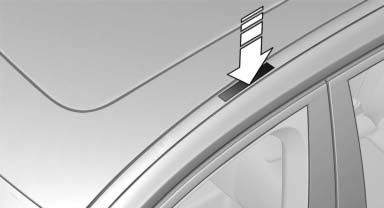 On the roof drip rail, press on the outside of the flap.
Mounting
The preparation for the mounting plate is located below the roof drip rail. Have the mounting plate installed by the service center before installation of a roof rack.
Be sure that adequate clearance is maintained for raising and opening the glass sunroof*.
Magnetic roof-mounted luggage rack
Because of the aluminum roof, magnetic roofmounted luggage racks cannot be mounted.
Loading
Because roof racks raise the vehicle's center of gravity when loaded, they have a major effect on vehicle handling and steering response.
Therefore, note the following when loading and driving:
Do not exceed the approved roof/axle loads.
Distribute the roof load uniformly.
The roof load should not be too large in area.
Always load the heaviest pieces on the bottom.
Secure the roof luggage firmly, e.g., tie with ratchet straps.
Do not let objects project into the opening path of the trunk lid.
Drive smoothly. Avoid sudden acceleration and braking maneuvers. Take corners gently.
See also:
Dimensions
Width, height 1. Vehicle height: 57.6 inches / 1,464 mm 2. Vehicle width, without mirrors: 73.2 inches / 1,860 mm 3. Vehicle width with mirrors: 82.4 inches / 2,094 mm Length, wheel base ...
Automatic Service Request
Data regarding the maintenance status or legally mandated inspections of the vehicle are automatically transmitted to your service center before a service due date. You can check when your serv ...
Switching on/off
To switch the entertainment audio output on or off: Press knob 1next to the CD/DVD player. This symbol on the Control Display indicates that sound output is switched off. The sound output is ava ...