Securing cargo
Lashing eyes in the cargo area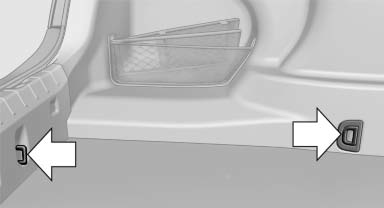 To secure the cargo, there are four lashing eyes in the cargo area
Securing cargo
Smaller and lighter items: secure with retaining straps or with a cargo net* or draw straps.
Larger and heavy objects: secure with cargo straps*.
Cargo straps, cargo netting, retaining straps or draw straps on the lashing eyes in the cargo area.

Securing cargo
Always position and secure the cargo as described above; otherwise, it can endanger the car's occupants if sudden braking or swerving becomes necessary.
Heavy or hard objects should not be carried loose inside the car; otherwise, they could be thrown around as a result of hard braking, sudden swerves, etc., and endanger the occupants.
See also:
Measurement
Measurements are made by ultrasound sensors in the bumpers. The range is approx. 6 ft/2 m. An acoustic warning is first given: By the front* sensors and the two rear corner sensors at appro ...
BMW X5 with BMW Advanced Diesel:
required fuel
Ultra-Low Sulfur Diesel The engine of your BMW is designed for diesel with a low sulfur content: Ultra-low sulfur diesel ASTM D 975-07a. Only refuel with ultra-low sulfur diesel. The percentag ...
The concept
BMW X5 BMW X5 ▷ During normal brake application, the outer brake lamps light up. ▷ During heavy brake application, the inner brake lamps light up in addition. BMW X6 BMW X6 & ...