Automatic climate control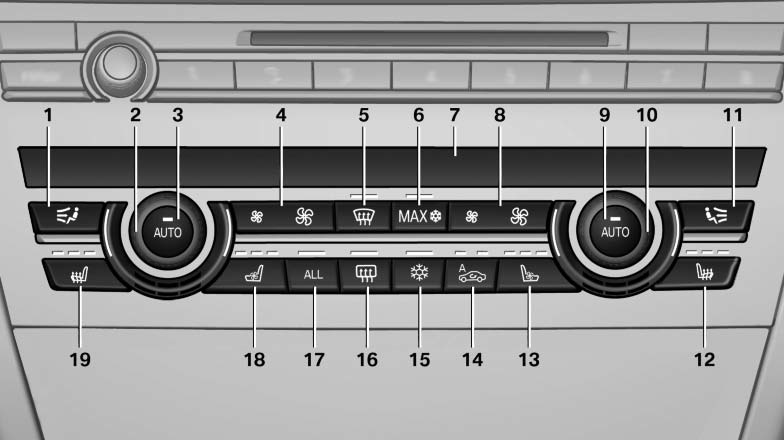 1 Air distribution, left
2 Temperature, left
3 AUTO program, left
4 Air volume, AUTO intensity, residual heat, left
5 Remove ice and condensation
6 Maximum cooling
7 Display
8 Air volume, AUTO intensity, right
9 AUTO program, right
10 Temperature, right
11 Air distribution, right
12 Seat heating*, right
13 Active seat ventilation*, right
14 Automatic recirculated-air control/recirculated- air mode
15 Cooling function
16 Rear window defroster
17 ALL program
18 Active seat ventilation*, left
19 Seat heating*, left
See also:
Drive-off assistant
The drive-off assistant enables you to drive off smoothly on uphill gradients. It is not necessary to use the parking brake for this. 1. Hold the car in place by depressing the brake. 2.&nbs ...
Front lamps, bulb replacement
Halogen headlamps Halogen headlamps 1 Parking lamps 2 High beams/headlamp flasher 3 Low beams 4 Turn signal 5 Daytime running lights Accessing the turn signals and low beams Follow the Gener ...
Steering wheel
General information Do not adjust while driving Do not adjust the steering wheel while driving; otherwise, an unexpected movement could result in an accident.◀ Manual steering wheel adju ...