Automatic climate control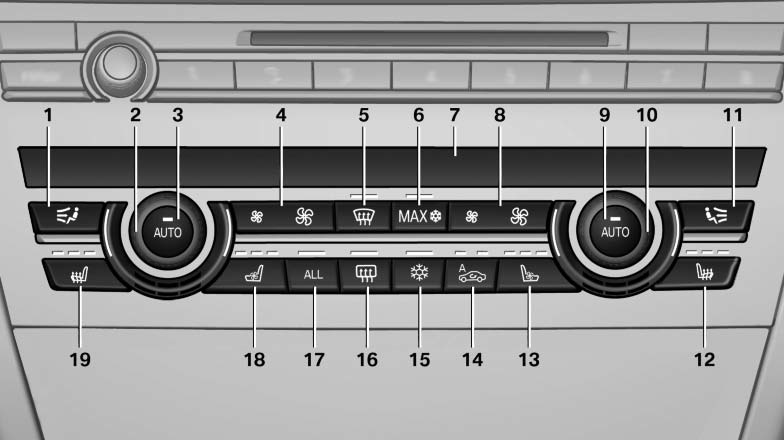 1 Air distribution, left
2 Temperature, left
3 AUTO program, left
4 Air volume, AUTO intensity, residual heat, left
5 Remove ice and condensation
6 Maximum cooling
7 Display
8 Air volume, AUTO intensity, right
9 AUTO program, right
10 Temperature, right
11 Air distribution, right
12 Seat heating*, right
13 Active seat ventilation*, right
14 Automatic recirculated-air control/recirculated- air mode
15 Cooling function
16 Rear window defroster
17 ALL program
18 Active seat ventilation*, left
19 Seat heating*, left
See also:
Arming and disarming the alarm system
General information When you lock or unlock the vehicle, either with the remote control, Comfort Access or at the door lock the alarm system is armed or disarmed at the same time. Door lock an ...
Exterior mirrors
At a glance At a glance 1 Adjusting 2 Left/right, Automatic Curb Monitor 3 Fold in and out General information The mirror on the passenger side is more curved than the driver's side mirror. ...
System limits
Personal judgment The system cannot serve as a substitute for the driver's personal judgment of the traffic situation. The system assists the driver and does not replace the human eye. The s ...