Displays in the instrument cluster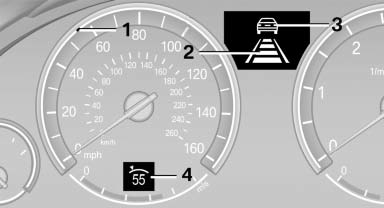 1 Display of desired speed
2 Distance to vehicle ahead of you
3 Vehicle symbol
4 Brief status display
Desired speed
Marking in the speedometer

The marking lights up in green: the system is active.
The marking lights up in orange: the system has been interrupted.
The marking does not light up: the system is switched off.
Brief status display

Selected desired speed.
If --- appears briefly on the display for Check Control messages, it is possible that the system requirements for operation are currently not met.
Distance to vehicle ahead of you
The selected distance to the vehicle driving ahead of you is shown.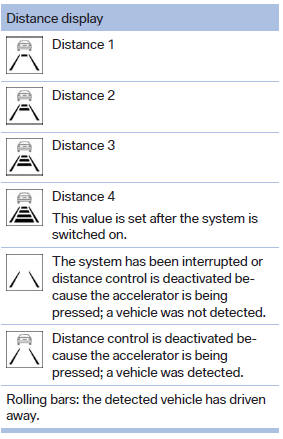 Indicator/warning lamps

Personal responsibility
The indicator and warning lamps do not relieve the driver of the responsibility to adapt his or her desired driving speed and style to the traffic conditions.

The vehicle symbol lights up in orange:
A vehicle has been detected ahead of you.

The vehicle symbol flashes orange:
The conditions are not adequate for operating the system.
The system was deactivated but applies the brakes until you actively assume control by pressing on the brake pedal or accelerator.

The vehicle symbol flashes red and an acoustic signal sounds:
You are requested to intervene by braking or making an evasive maneuver.
See also:
Notes on Emergency Requests
Do not use the voice activation system to initiate an Emergency Request. In stressful situations, the voice and vocal pitch can change. This can unnecessarily delay the establishment of a teleph ...
DTMF suffix dialing
DTMF suffix dialing can be used for gaining access to network services or for controlling devices, e.g., to make a remote inquiry of an answering machine. The DTMF code is needed for this purp ...
Thigh support
Pull the lever at the front of the seat and adjust the thigh support. ...