Child restraint fixing system with a tether strap

LATCH mounting eyes
Only use the mounting eyes for the upper LATCH retaining strap to secure child restraint fixing systems; otherwise, the mounting eyes could be damaged.
Mounting points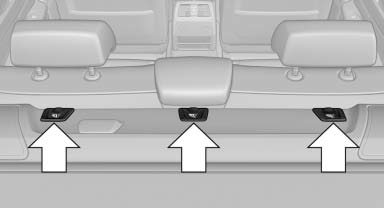 Depending on the vehicle equipment, there are two outer or three mounting points for child restraint fixing systems with a tether strap.
Retaining strap guide

Retaining strap
Make sure that the upper retaining strap is not routed over the head restraints or sharp edges and is free of twisting on its way to the upper mounting point; otherwise, the belt cannot properly secure the child restraint fixing system in an accident.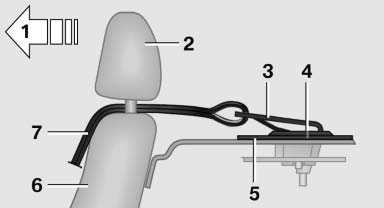 1 Direction of travel
2 Head restraint.
3 Hook for upper retaining strap
4 Mounting point/eye
5 Rear window shelf
6 Seat backrest
7 Upper retaining strap
Attaching the upper retaining strap to the mounting point
1. Remove the mounting point cover.
2. Raise the head restraint. Do not change the middle head restraint*.
3. Guide the upper retaining strap between the supports of the head restraint.
Guide it over the head restraint of the middle seat.
4. Attach the hook of the retaining strap to the mounting eye.
5. Tighten the retaining strap by pulling it down.
6. Lower the head restraint.
See also:
General information
Additional information can be displayed on the right side of the split screen, e.g., information from the computer. In the divided screen view, the so-called split screen, this information rema ...
Warning stages
Prewarning This warning is issued, for example, when there is the impending danger of a collision or the distance to the vehicle ahead is too small. Acute warning Warning of the imminent danger ...
Comfort Access
Comfort Access enables you to enter your vehicle without needing to hold the remote control in your hand. All you need to do is wear the remote control close to your body, e.g. in your jacket pock ...