Adjusting the height: electrical
The head restraints on the left and right rear passenger seats extend automatically whenever a passenger in the rear seat fastens his or her safety belt.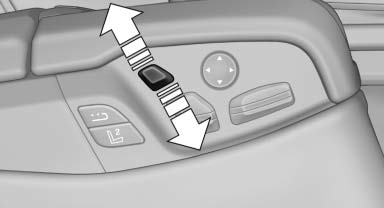 In addition, the height of the head restraint can be adjusted electrically.

Extending the head restraint
To prevent possible personal injury and property damage, always ensure that the area above the head restraints is clear and unobstructed before extending them upward.
The height adjustment of the head restraint is deactivated when the safety switch for the rear windows, has been pressed.
See also:
Headlamp range control
With halogen headlamps, the headlamp range of the low beams can be manually adjusted for the vehicle load to avoid blinding oncoming traffic. The values following the slash apply to trailer oper ...
View of an opened menu
When a menu is opened, it generally opens with the panel that was last selected in that menu. To display the first panel of a menu: ▷ Move the controller to the left repeatedly until the ...
Changing the map section
"Interactive map" ▷ To shift the map: move the controller in the required direction. ▷ To shift the map diagonally: move the controller in the required direction and turn ...