Adjusting
General information
The switches for adjusting the seats are located on the center armrest of the rear seats.

Center armrest
When folding down the center armrest, ensure that the area below the center head restraint is clear. Otherwise, injury may result.
At a glance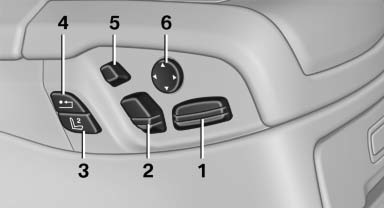 1 Forward/backward, tilt
2 Backrest
3 Adjust front passenger seat
4 Reset to standard position
5 Head restraint.
6 Lumbar support
The seats cannot be adjusted if the safety switch for the power windows has been pressed.
Settings in detail
1. Forward/back.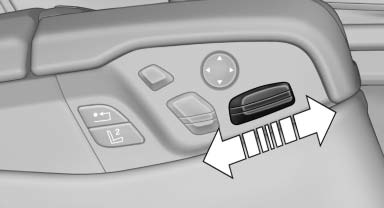 2. Seat tilt.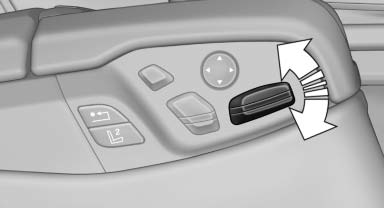 3. Backrest tilt.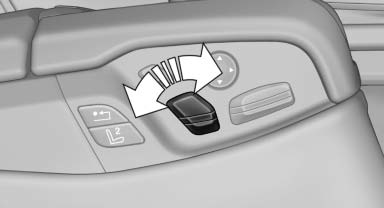 Lumbar support
The contour of the seat backrest can be adjusted in such a way that it supports the lumbar region of the spine. The lower back and the spine are supported for upright posture.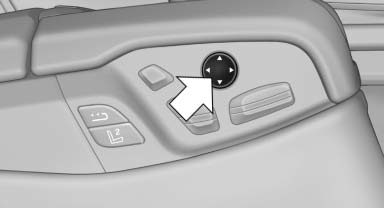 Press the front/rear section of the switch. The curvature is increased/decreased.
Press the upper/lower section of the switch. The curvature is shifted up/down.
Adjusting the front passenger seat from the rear
For more leg room in the rear, for example.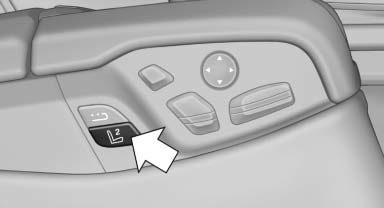 1. Press the button to activate the function, arrow.
2. Adjust the passenger seat, e.g., forward/ back.
3. Press the button to deactivate the function, arrow.
The function deactivates itself automatically after some time.
Reset* to standard position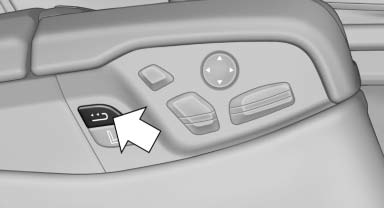 Maintain pressure on the button until the system completes the adjustment.
See also:
General information
BMW Assist provides you with certain services, e.g., transmission of the position data of your vehicle to the BMW Assist Response Center if an Emergency Request has been initiated. Many BMW Ass ...
Issued warning
If you leave the lane and if a lane marking has been detected, the steering wheel begins vibrating. If the turn signal is set before changing the lane, a warning is not issued. End of warning T ...
Tilt alarm sensor
The tilt of the vehicle is monitored. The alarm system responds in situations such as attempts to steal a wheel or when the car is towed. ...