Rear door controls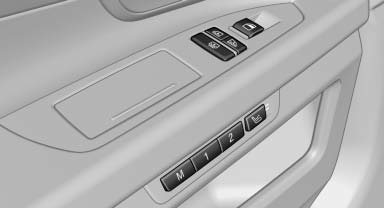 Roller blind for the side windows

Press the button.
The roller blind can only be extended or retracted when the side window is closed.
Roller blind for rear window

Press the button.
Raising and lowering the roller blinds together

Press and hold the button.
See also:
The concept
Adaptive light control is a variable headlamp control system that enables dynamic illumination of the road surface. Depending on the steering angle and other parameters, the light from the head ...
X5 Diesel in the Market
From a driver's perspective, the diesel X5 is a worthy effort: quick on its feet and agile when it needs to be, yet comfortable for the long haul. Well-to-do families might still give it a look — ...
The concept
After the mobile phone is paired once with the vehicle, the mobile phone can be operated via iDrive, the steering wheel buttons and via voiceactivated command. A paired mobile phone is automati ...