Opening and closing: from the inside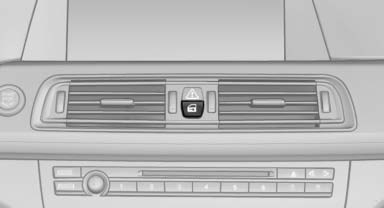 Unlocking and opening
Either unlock the doors together using the button for the central locking system and then pull the door handle above the armrest or
Pull the door opener twice individually on each door: the first time unlocks the door, the second time opens it.
Locking and unlocking

Press the button in the vehicle. The doors and the trunk lid are locked or unlocked when the front doors are closed, but they are not secured against theft.
The fuel filler flap remains unlocked.
Automatic locking
The setting is stored for the remote control currently in use.
1. "Settings"
2. "Door locks"
3. Select the desired function:
"Lock if no door is opened" The vehicle locks automatically after a short period of time if a door is not opened.
"Lock after start. to drive"
The vehicle locks automatically after you drive away.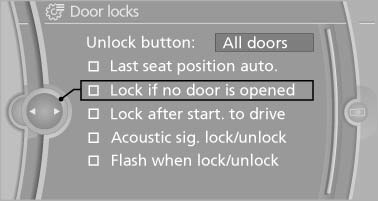 See also:
General information
Danger of burns from hot engine Do not open the cooling system while the engine is hot; otherwise, escaping coolant may cause burns.◄ Suitable additives Only use suitable additives; other ...
Timeshift
Approx. one hour of the program being broadcast on the channel currently being listened to is stored in a buffer. Prerequisite: the signal must be available. The stored audio track can be playe ...
Have maintenance carried out
Have vehicles maintained regularly to achieve optimal vehicle economy and operating life. Have the maintenance carried out by your service center. Please also note the BMW Maintenance System, ...