Opening and closing: from the inside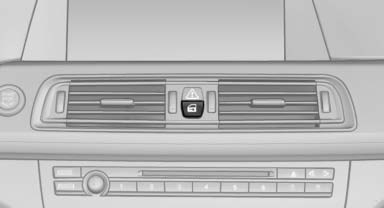 Unlocking and opening
Either unlock the doors together using the button for the central locking system and then pull the door handle above the armrest or
Pull the door opener twice individually on each door: the first time unlocks the door, the second time opens it.
Locking and unlocking

Press the button in the vehicle. The doors and the trunk lid are locked or unlocked when the front doors are closed, but they are not secured against theft.
The fuel filler flap remains unlocked.
Automatic locking
The setting is stored for the remote control currently in use.
1. "Settings"
2. "Door locks"
3. Select the desired function:
"Lock if no door is opened" The vehicle locks automatically after a short period of time if a door is not opened.
"Lock after start. to drive"
The vehicle locks automatically after you drive away.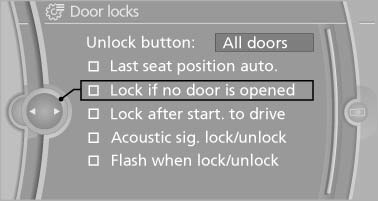 See also:
Changing the list view
The list view changes every time the first symbol on the navigation bar is pressed. Information on the channel is displayed ...
Planning a trip with intermediate destinations
New tripA trip can be planned using intermediate destinations. 1. "Navigation" 2. "Map" 3. Move the controller to the left, if necessary. 4. "Guid ...
Features
Like most up-level BMWs these days, the 650i can be equipped with a dizzying array of technological wizardry. Ours came equipped with an optional lane departure warning and correction system, adap ...