Integrated key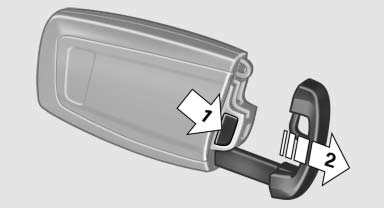 Press the button on the back of the remote control, arrow 1, and pull out the key, arrow 2.
The integrated key fits the following locks:
Driver's door.
Trunk lid.
Storage compartment in the front center armrest.
The storage compartment contains a switch for separately securing the trunk lid.
Replacing the battery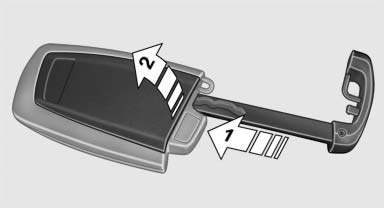 1. Take the integrated key out of the remote control.
2. Push in the catch with the key, arrow 1.
3. Remove the cover of the battery compartment; see arrow 2.
4. Insert a battery of the same type with the positive side facing upwards.
5. Press the cover closed.

Take the used battery to a recycling center or to your service center.
New remote controls
You can obtain new remote controls from your service center.
Loss of the remote controls
Lost remote controls can be blocked by your service center.
Emergency detection of remote control
It is possible to switch on the ignition or start the engine in situations such as the following:
Interference of radio transmission to remote control by external sources.
Discharged battery in the remote control.
A Check Control message is displayed if an attempt is made to switch on the ignition or start the engine.
Starting the engine in case of emergency detection of remote control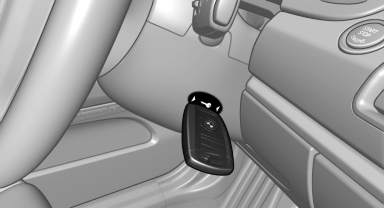 If a corresponding Check Control message appears, hold the remote control, as shown, against the marked area on the steering column and press the Start/Stop button within 10 seconds while pressing the brake.
See also:
Entering a phone number
Dialing a number When entering phone numbers, you can switch between entering letters and numbers. Service numbers can be entered more easily, e. g. 1-888-BMW-CARD. 1. "Telephone". 2 ...
Changing the list view
The list view changes every time the first symbol on the navigation bar is pressed. Information on the channel is displayed. ...
Avoid high engine speeds
Driving at a low engine speed reduces fuel consumption and minimizes wear. ...