Components of the integrated Owner's Manual
The integrated Owner's Manual consists of three parts, which offer various levels of information or access possibilities.
Quick Reference Guide
Located in the Quick Reference is important information for the operation of the vehicle, the operation of basic vehicle functions or for what to do in the event of a flat tire. This information can also be displayed during driving.
Search by pictures
Information and descriptions based on illustrations can be searched via search by pictures. This is helpful, for example, if the description of an outfitting package that cannot be named is needed.
Owner's Manual
Information and descriptions can be searched by direct entry of a search term via the index.
Select components
1. Press the button.
2. Turn the controller: open "Vehicle Info".
3. Press the controller.
4. Selecting desired range:
"Quick reference"
"Search by pictures"
"Owner's Manual"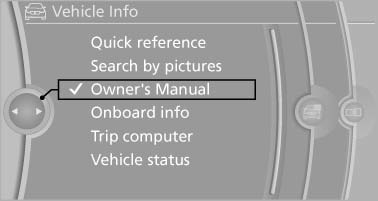 See also:
Operating from the outside
▷ Via the remote control. ▷ Via the door handles of the driver's and front passenger doors. The following takes place simultaneously when locking/unlocking the vehicle via the remote ...
New wheels and tires
Have new wheels and tires installed only by your BMW center or tire shop that works according to BMW repair procedures with correspondingly trained personnel. If this work is not carried out prop ...
Oil change
An oil change should be carried out by your service center only. ...