Components of the integrated Owner's Manual
The integrated Owner's Manual consists of three parts, which offer various levels of information or access possibilities.
Quick Reference Guide
Located in the Quick Reference is important information for the operation of the vehicle, the operation of basic vehicle functions or for what to do in the event of a flat tire. This information can also be displayed during driving.
Search by pictures
Information and descriptions based on illustrations can be searched via search by pictures. This is helpful, for example, if the description of an outfitting package that cannot be named is needed.
Owner's Manual
Information and descriptions can be searched by direct entry of a search term via the index.
Select components
1. Press the button.
2. Turn the controller: open "Vehicle Info".
3. Press the controller.
4. Selecting desired range:
"Quick reference"
"Search by pictures"
"Owner's Manual"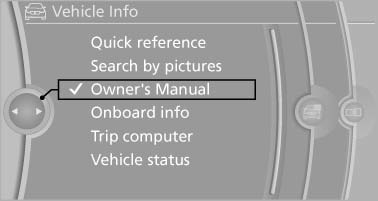 See also:
Status display
The tire and system status is indicated by the color of the tires. A change in the tire inflation pressure during driving is taken into account. A correction is only necessary if this is indicat ...
Mirrors
Exterior mirrors The front passenger's mirror is more convex than the driver's mirror. The objects seen in the mirror are closer than they appear. Do not gauge your distance from traffic be ...
Closing the hood
Let the hood drop from a height of approx. 16 in/ 40 cm and push down on it to lock it fully. The hood must audibly engage on both sides. Hood open when driving If you see any signs that the h ...