Components of the integrated Owner's Manual
The integrated Owner's Manual consists of three parts, which offer various levels of information or access possibilities.
Quick Reference Guide
Located in the Quick Reference is important information for the operation of the vehicle, the operation of basic vehicle functions or for what to do in the event of a flat tire. This information can also be displayed during driving.
Search by pictures
Information and descriptions based on illustrations can be searched via search by pictures. This is helpful, for example, if the description of an outfitting package that cannot be named is needed.
Owner's Manual
Information and descriptions can be searched by direct entry of a search term via the index.
Select components
1. Press the button.
2. Turn the controller: open "Vehicle Info".
3. Press the controller.
4. Selecting desired range:
"Quick reference"
"Search by pictures"
"Owner's Manual"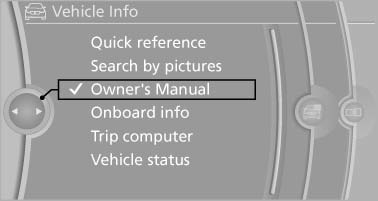 See also:
Switching on automatically
With the engine running or the ignition switched on, shift the selector lever into position R. The image of the rear view camera is displayed when the system has been switched on using iDrive. ...
E-mail
Displaying e-mails 1. "Office". 2. "Messages". 3. Select the desired e-mail. Displaying e-mail contacts If the sender and recipient of an e-mail are transmitted by the mobil ...
Pinch protection system
If the closing force when closing the glass sunroof exceeds a certain value, the closing movement is stopped, beginning at approximately the middle of the opening in the roof, or from the tilt ...