All around the steering wheel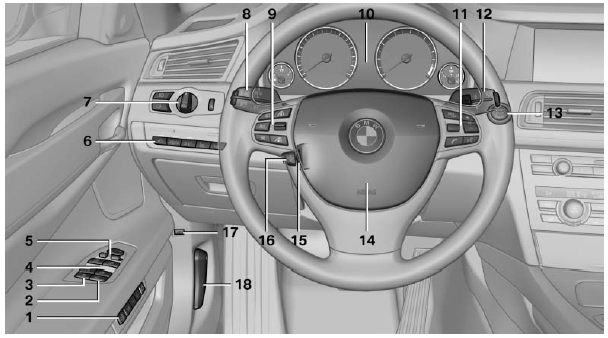 1 Seating comfort functions*

Gentleman function*

Seat, mirror, steering wheel memory*

Active seat*
2 Roller sunblind* for rear window
3 Safety switch for the windows and the roller sun blind* in the rear
4 Power windows
5 Exterior mirror operation
6 Driver assistance systems*

Active Blind Spot Detection*

Collision warning*

Lane departure warning*

Night Vision with pedestrian detection*

Head-up Display*
7 Lamps

Front fog lamps*

Parking lamps

Low beams

Automatic headlamp control*
Daytime running lights
Adaptive light control
High-beam Assistant

Instrument lighting
8 Steering column stalk, left

Turn signal

High beams, headlamp flasher
High-beam Assistant

Roadside parking lamps

Computer
9 Steering wheel buttons

Store speed

Resume speed

Cruise control on/off, interrupt

Increase distance

Decrease distance
10 Instrument cluster
11 Steering wheel buttons, right

Entertainment source

Volume

Voice activation

Telephone
12 Steering column stalk, right

Windshield wipers

Rain sensor

Clean the windshields and headlamps
13

Start/stop the engine and switch the ignition on/off
14 Horn
15

Steering wheel heating
16

Adjust steering wheel
17

Open trunk lid
18 Unlocking the hood
See also:
Actions in the event of a flat tire
Normal tires 1. Identify the damaged tire. Do this by checking the air pressure in all four tires. If the tire inflation pressure in all four tires is correct, the Flat Tire Monitor may not hav ...
Tachometer
Always avoid engine speeds in the red warning field. In this range, the fuel supply is interrupted to protect the engine. ...
At a glance
This overview of buttons, switches and displays is intended to familiarize you with your vehicle's operating environment. The section will also assist you in becoming acquainted with the contr ...