All around the steering wheel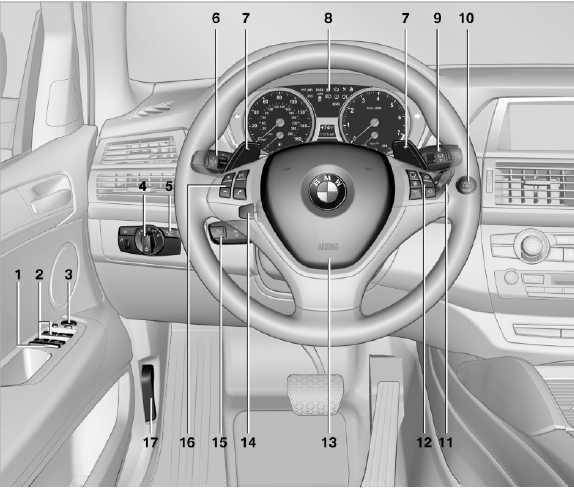 All around the steering wheel
1. Rear window safety switch
2. Power windows
3. Exterior mirror operation
4. Lamps

Instrument lighting

Front fog lamps

Parking lamps

Low beams

Automatic headlamp control
Adaptive light control
High-beam Assistant
5.

Head-up Display
6. Steering column stalk, left

Turn signal

High beams, headlamp flasher

High-beam Assistant

Roadside parking lamps

Computer

Settings and information about the vehicle
7. BMW X6: shifting up or down with automatic transmission
8. Instrument cluster
9. Steering column stalk, right

Windshield wipers

Rain sensor

BMW X5: rear window wipers
10.

Start/stop the engine and switch the ignition on/off
11. Ignition lock
12. Steering wheel buttons, right
Change the radio station
Stopping a traffic announcement

Select a music track
Scrolling through the redial list

Next entertainment source

Recirculated-air mode

Steering wheel heating

Lane departure warning
13. Horn, the entire surface
14.

15. Cruise control lever

Cruise control

Active cruise control
16. Steering wheel buttons, left

Telephone

Volume

Activate/deactivate the voice activation system
17. Releasing the hood
See also:
2012 BMW 3 Series: Up Close
Of all BMW's cars, the 3 Series is the one that somehow escaped being hit by the Chris Bangle ugly stick, so I didn't go to the redesigned compact sedan's North American debut looking for sweet re ...
Driving through water
Drive though calm water only if it is not deeper than 9.8 inches/25 cm and at this height, no faster than walking speed, up to 6 mph/10 km/h. Adhere to water depth and speed limitations Do no ...
Automatic deactivation of the front passenger airbags
The system determines whether the front passenger seat is occupied by measuring the resistance of the human body. The front, knee, and side airbag on the front passenger side are activated or d ...