All around the steering wheel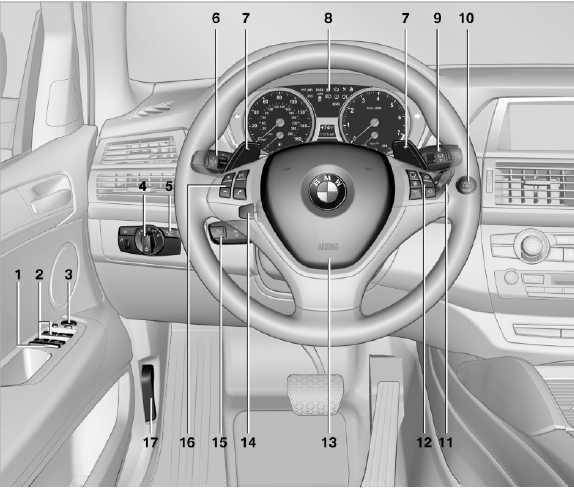 All around the steering wheel
1. Rear window safety switch
2. Power windows
3. Exterior mirror operation
4. Lamps

Instrument lighting

Front fog lamps

Parking lamps

Low beams

Automatic headlamp control
Adaptive light control
High-beam Assistant
5.

Head-up Display
6. Steering column stalk, left

Turn signal

High beams, headlamp flasher

High-beam Assistant

Roadside parking lamps

Computer

Settings and information about the vehicle
7. BMW X6: shifting up or down with automatic transmission
8. Instrument cluster
9. Steering column stalk, right

Windshield wipers

Rain sensor

BMW X5: rear window wipers
10.

Start/stop the engine and switch the ignition on/off
11. Ignition lock
12. Steering wheel buttons, right
Change the radio station
Stopping a traffic announcement

Select a music track
Scrolling through the redial list

Next entertainment source

Recirculated-air mode

Steering wheel heating

Lane departure warning
13. Horn, the entire surface
14.

15. Cruise control lever

Cruise control

Active cruise control
16. Steering wheel buttons, left

Telephone

Volume

Activate/deactivate the voice activation system
17. Releasing the hood
See also:
Reference
This chapter contains technical data, short commands for the voice activation system, and an index that will quickly take you to the information you need. ...
Safety switch
The safety switch in the driver's door can be used to prevent children, for example, from opening and closing the rear windows using the switches in the rear. Switching on and off Press the b ...
DTMF suffix dialing
DTMF suffix dialing can be used for gaining access to network services or for controlling devices, e.g., to make a remote inquiry of an answering machine. The DTMF code is needed for this purp ...