Coolant level
Checking
1. Let the engine cool.
2. Turn the cap of the expansion tank slightly counterclockwise to allow any excess pressure to dissipate, and then open it.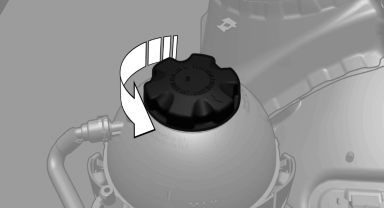 3. The coolant level is correct if it lies between the minimum and maximum marks in the filler neck.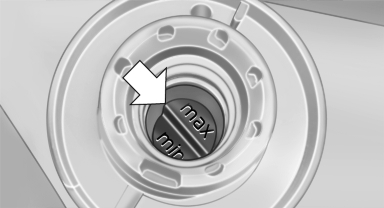 4. If the coolant is low, slowly add coolant up to the specified level; do not overfill.
5. Turn the cap until there is an audible click.
6. Have the cause of the coolant loss eliminated as soon as possible.
See also:
Engaging transmission position
▷ Transmission position P can only be disengaged if the engine is running and the brake pedal is pressed. ▷ With the vehicle stationary, press on the brake pedal before shifting out ...
Route criteria
General information ▷ The route calculated can be influenced by selecting certain criteria. ▷ The route criteria can be changed when the destination is entered and during destination ...
Roadside parking lamps
The vehicle can be illuminated on one side. Switching on With the ignition switched off, press the lever either up or down past the resistance point for approx. 2 seconds. Switching off Brie ...