Coolant level
Checking
1. Let the engine cool.
2. Turn the cap of the expansion tank slightly counterclockwise to allow any excess pressure to dissipate, and then open it.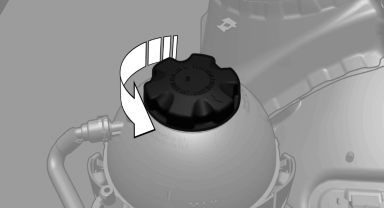 3. The coolant level is correct if it lies between the minimum and maximum marks in the filler neck.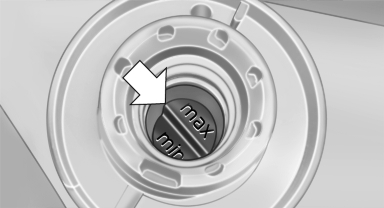 4. If the coolant is low, slowly add coolant up to the specified level; do not overfill.
5. Turn the cap until there is an audible click.
6. Have the cause of the coolant loss eliminated as soon as possible.
See also:
Ultrasound sensors
The ultrasounds sensors used to measure parking spaces are located in the side turn signals. To ensure full operability: ▷ Keep the sensors clean and free of ice. ▷ When using high- ...
Reading lamps
Press the button. Reading lamps are located at the front and rear next to the interior lamps. With the interior lamps shut off, the reading lamps cannot be switched on. ...
Adjusting the volume
Turn the volume button while giving an instruction until the desired volume is set. ▷ The volume remains constant even if the volume of other audio sources is changed. ▷ The volume i ...