Treble, bass, balance, andfader
► "Treble": treble adjustment.
► "Bass": depth adjustment.
► "Balance": left/right volume distribution.
► "Fader": front/rear volume distribution.
Setting treble, bass, balance, and fader
1. "CD/Multimedia", "Radio" or "Settings"
2. "Tone"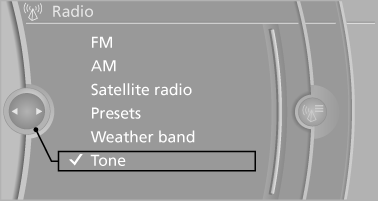 3. Select the desired tone settings.
4. To adjust: turn the controller.
5. To store: press the controller.
See also:
Notes
CD/DVD player and changer Do not remove the cover BMW CD/DVD players and changers are officially designated Class 1 laser products. Do not operate if the cover is damaged; otherwise, severe ...
Example: dialing a phone number
1. Briefly press the button on the steering wheel. 2. ›Dial number‹ The system says: »Please say the number« 3. E.g., ›123 456 790‹ The system says: »123 456 790. Continue? « 4. ›Dial‹ T ...
Tow-starting, towing away
Observe the applicable laws and regulations for tow-starting and towing vehicles. Do not transport any passengers other than the driver in a vehicle that is being towed. Using a tow fittingThe ...