Securing cargo
Lashing eyes in the cargo area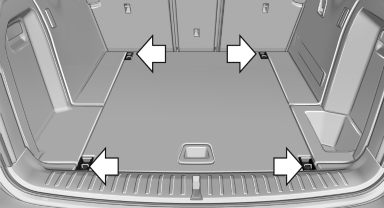 To secure the cargo, there are four lashing eyes in the cargo area
Lashing eyes in the cargo area with rails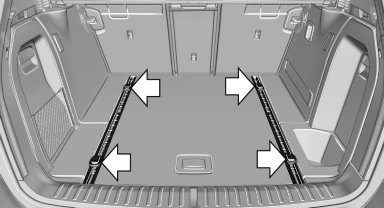 To secure the cargo, there are four movable lashing eyes in the cargo area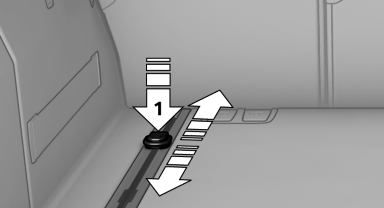 To slide the lashing eyes, press the button, arrow 1. Make sure that the lashing eyes latch at the new position.
If available, the lashing eyes are located under the cargo floor cover in the cargo area. They can be inserted into the openings in the rails.
Cargo net, FlexNet
The flexible cargo net is hooked into eyes and secures the cargo in the cargo area. The storage net can be attached to the following eyes: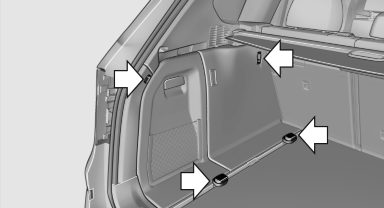 ► Lashing eyes on the rail system.
► Eyes on the cargo area wall.
The eyes are located on both sides of the cargo area.
Securing cargo
► Smaller and lighter items: secure with retaining straps or with a cargo net or draw straps.
► Larger and heavy objects: secure with cargo straps.
Cargo straps, cargo netting, retaining straps or draw straps on the lashing eyes in the cargo area.

Securing cargo
Always position and secure the cargo as described above; otherwise, it can endanger the car's occupants if sudden braking or swerving becomes necessary.
Heavy or hard objects should not be carried loose inside the car; otherwise, they could be thrown around as a result of hard braking, sudden swerves, etc., and endanger the occupants.◄
See also:
Notes
At high temperatures, the charge function of the mobile phone can be limited where appropriate and the functions are no longer executed. When the mobile phone is used via the vehicle, heed the ...
Selecting the sorting order of the names
Names can be displayed in a different order. 1. "Office" 2. "Contacts" 3. Open "Options". 4. "Display: last, first name" or "Display: first, last nam ...
Adaptive light control
The concept Adaptive light control is a variable headlamp control system that enables dynamic illumination of the road surface. Depending on the steering angle and other parameters, the light ...