Washer fluid
General information

Antifreeze for washer fluid
Antifreeze is flammable. Therefore, keep it away from sources of ignition.
Only keep it in the closed original container and inaccessible to children.
Follow the instructions on the container.◄
Washer fluid reservoir

Adding washer fluid
Only add washer fluid when the engine is cool, and then close the cover completely to avoid contact between the washer fluid and hot engine parts.
Otherwise, there is the danger of fire and a risk to personal safety if the fluid is spilled.◄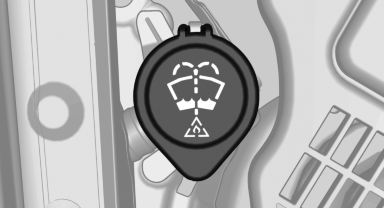 All washer nozzles are supplied from one reservoir.
Fill with water and – if required – with a washer antifreeze, according to the manufacturer's recommendations.
Mix the washer fluid before adding to maintain the correct mixing ratio.
For the capacity, refer to technical data.
See also:
The right place for children
Note Children in the vehicle Do not leave children unattended in the vehicle; otherwise, they could endanger themselves and other persons, e.g., by opening the doors. Children should always ...
Jump starting
Notes If the battery is discharged, an engine can be started using the battery of another vehicle and two jumper cables. Only use jumper cables with fully insulated clamp handles. To prevent p ...
Exterior mirrors
General information The mirror on the passenger side is more curved than the driver's mirror. Estimating distances correctly Objects reflected in the mirror are closer than they appear. Do no ...