Washer fluid
General information

Antifreeze for washer fluid
Antifreeze is flammable. Therefore, keep it away from sources of ignition.
Only keep it in the closed original container and inaccessible to children.
Follow the instructions on the container.◄
Washer fluid reservoir

Adding washer fluid
Only add washer fluid when the engine is cool, and then close the cover completely to avoid contact between the washer fluid and hot engine parts.
Otherwise, there is the danger of fire and a risk to personal safety if the fluid is spilled.◄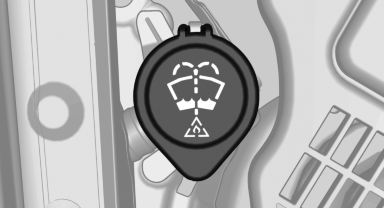 All washer nozzles are supplied from one reservoir.
Fill with water and – if required – with a washer antifreeze, according to the manufacturer's recommendations.
Mix the washer fluid before adding to maintain the correct mixing ratio.
For the capacity, refer to technical data.
See also:
Navigation data
Information on the navigation data 1. "Navigation" 2. Open "Options". 3. "Navigation system version": information on the data version is displayed. Updating the nav ...
Sitting safely
The ideal seating position can make a vital contribution to relaxed, fatigue-free driving. The seating position plays an important role in an accident in combination with: ▷ Safety belts. ...
At a glance
These overviews of buttons, switches and displays are intended to familiarize you with your vehicle. You will also become quickly acquainted with the available control concepts and options. ...