Ski bag
Capacity
The ski bag can be used to transport up to four pairs of skis with a length of up to 6 ft/2.10 m or, depending on the binding, up to two snowboards with a length of up to 5 ft/1.60 m.
Preparing and loading the ski bag
1. Fold open the center armrest on the inside.
2. Open the inside cover and cargo area by pressing the button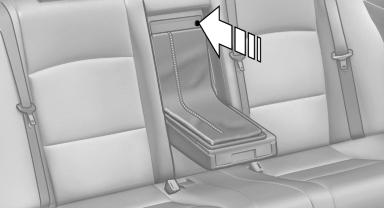 3. Lay out the ski bag.
4. Load the ski bag. If necessary, wrap the sharp edges of the skis
5. Insert the tongue plate into the belt buckle.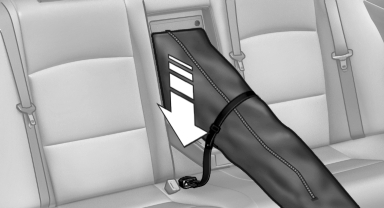 6. Tighten the retaining strap.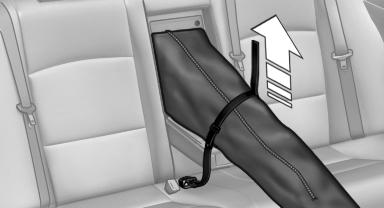 Securing the ski bag Secure the ski bag by tightening the retaining strap; otherwise, the contents could present a source of danger to the passengers, for example during braking or evasive maneuvers.◀
Removing the ski bag
The ski bag can be removed entirely, e.g., to dry quickly or to use other inserts.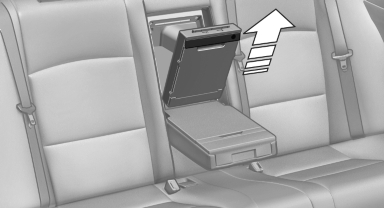 1. Pull the handle forward and lift the ski bag out.
2. Close the cover in the cargo area.
More information on the various inserts available can be obtained from your service center.
See also:
Speed limit
Display of a speed limit which, when reached, should cause a warning to be issued. Renewed warning if the vehicle speed drops below the set speed limit once by at least 3 mph/ 5 km/h. Displayi ...
Shifting
Shifting into 5th or 6th gear When shifting into 5th or 6th gear, push the gearshift lever to the right; otherwise inadvertent shifting into the 3rd or 4th gear could lead to engine damage ...
Opening the DVD-specific menu
Additional functions may be available on DVDs. It is thus possible, for example, to select from among several possible actions or to access information about the film. 1. Press the button on th ...