Dimensions
Width, height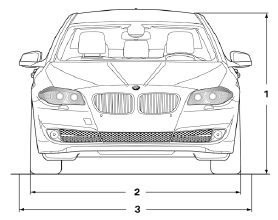 1. Vehicle height: 57.6 inches / 1,464 mm
2. Vehicle width, without mirrors: 73.2 inches / 1,860 mm
3. Vehicle width with mirrors: 82.4 inches / 2,094 mm
Length, wheel base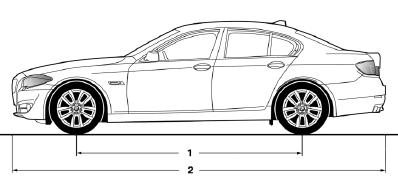 1. Wheel base: 116.9 inches / 2,968 mm
2. Length: 193.1 inches / 4,905 mm
Smallest turning circle
Dia.: 39 ft 2 in/11.95 m
Dia. xDrive: 39 ft 8 in/12.10 m
Dia. with active steering: 37 ft 6 in/11.45 m
See also:
Safety
Besides options like lane departure warning, the 5 Series comes equipped with a suite of side curtain airbags and front-seat side-impact airbags. Rear seat-mounted airbags can be ordered as a $385 ...
Performance
For 2009, there's just one engine: a 3.0-liter six-cylinder that's good for 260 horsepower. It teams with either a six-speed manual or a six-speed automatic transmission. All X3s have all-wheel dr ...
General information
Refuel promptly Refuel no later than at a range of 30 miles/50 km, or operation of the engine is not ensured and damage may occur.◄ ...