Opening the Options menu

Press the button.
The "Options" menu is displayed.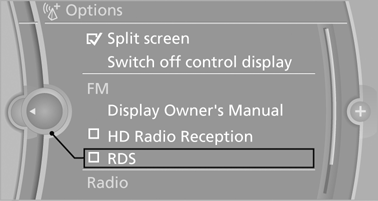 Additional options: move the controller to the right repeatedly until the "Options" menu is displayed.
Options menu
The "Options" menu consists of various areas:
► Screen settings, e.g., "Split screen".
This area remains unchanged.
► Control options for the selected main menu, e.g., for "Radio".
► If applicable, further operating options for the selected menu, e.g., "Store station".
See also:
Switch off any functions that are not currently needed
Functions such as seat heating and the rear window defroster require a lot of energy and consume additional fuel, especially in city and stopand- go traffic. Therefore, switch off these functio ...
System limits
Personal responsibility The system cannot serve as a substitute for the driver's personal judgment of the traffic situation. In the event of a warning, do not jerk the steering wheel, as you ...
Pressure specifications
The tables below provide all the correct inflation pressures for the specified tire sizes at ambient temperature. The inflation pressures apply to the tire sizes approved and tire brands recomm ...