Calendar
Display the calendar
Appointments during the last 20 and the next 50 days can be displayed.
1. "Office"
2. "Calendar"
The appointments on the current day are displayed
Selecting the calendar day
1. Select the date.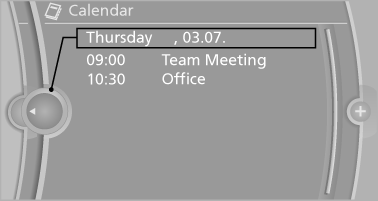 2. Select the desired day or date.
▷ "Next day"
▷ "Date:"
▷ "Previous day"
▷ "Today"
Display the appointment
1. Select the desired appointment.
2. Scroll through the appointment if necessary:
▷ Turn the controller.
▷


Select the symbol.
Using contact data
Contact data from appointments, tasks, text messages, e-mails and notes can be saved or selected
Reading the appointment out loud
Read the appointment out loud
See also:
Coolant temperature
Should the coolant, and with it the engine, become too hot, a Check Control message is displayed. Check the coolant level. ...
Malfunction
In the event of a failure or malfunction of the parking brake, secure the vehicle against rolling using a wheel chock, for example, when leaving it. ...
For Canadian customers
Canadian customers who wish to report a safety-related defect to Transport Canada, Defect Investigations and Recalls, may telephone the toll-free hotline 1-800-333-0510. You can also obtain other ...