At a glance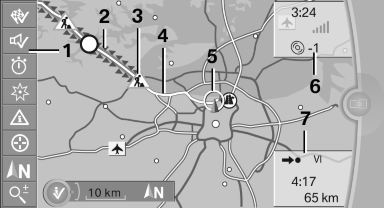 1. Function bar
2. Route section with traffic obstruction
3. Traffic sign for traffic obstruction
4. Planned route
5. Current location
6. Upper status field
7. Lower status field
Lines in the map
Streets and routes are displayed in different colors and styles depending on their classification.
Dashed lines represent railways and ferry connections.
Country borders are indicated by thin lines.
Traffic obstructions
Small triangles along the planned route indicate route sections with traffic obstructions, depending on the map scale. The direction of the triangles indicates the direction of the obstruction.
The traffic signs indicate the significance of the obstruction.
▷ Red traffic sign: the obstruction affects the planned route or direction.
▷ Gray traffic sign: the obstruction does not affect the planned route or direction.
Traffic bulletins
Planned route
After destination guidance is started, the planned route is displayed on the map.
Status fields
Show/hide: press the controller.
▷ Upper status field: time, telephone, and entertainment details.
▷ Lower status field: symbol for active destination guidance, status of traffic bulletins, time of arrival, and distance to destination.
Function bar
The following functions are available in the function bar: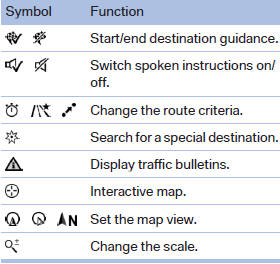 To change to the function bar, move the controller to the left.
See also:
Automatic update
About twice a year, Sirius performs an update of the channel names and positions. The update takes place automatically and may take several minutes. ...
Symbols
Indicates precautions that must be followed precisely in order to avoid the possibility of personal injury and serious damage to the vehicle. ◄ Marks the end of a specific item of informat ...
General information
Additional information can be displayed on the right side of the split screen, e.g., information from the computer. In the divided screen view, the so-called split screen, this information rema ...