At a glance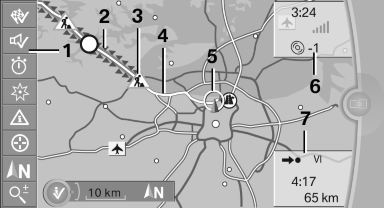 1. Function bar
2. Route section with traffic obstruction
3. Traffic sign for traffic obstruction
4. Planned route
5. Current location
6. Upper status field
7. Lower status field
Lines in the map
Streets and routes are displayed in different colors and styles depending on their classification.
Dashed lines represent railways and ferry connections.
Country borders are indicated by thin lines.
Traffic obstructions
Small triangles along the planned route indicate route sections with traffic obstructions, depending on the map scale. The direction of the triangles indicates the direction of the obstruction.
The traffic signs indicate the significance of the obstruction.
▷ Red traffic sign: the obstruction affects the planned route or direction.
▷ Gray traffic sign: the obstruction does not affect the planned route or direction.
Traffic bulletins
Planned route
After destination guidance is started, the planned route is displayed on the map.
Status fields
Show/hide: press the controller.
▷ Upper status field: time, telephone, and entertainment details.
▷ Lower status field: symbol for active destination guidance, status of traffic bulletins, time of arrival, and distance to destination.
Function bar
The following functions are available in the function bar: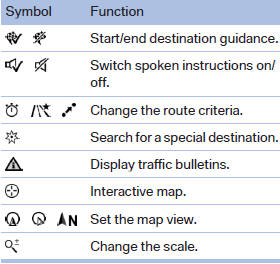 To change to the function bar, move the controller to the left.
See also:
Additional functions
Activating/deactivating the additional functions Activate the functions before pairing to be able to use them in the vehicle. Information on suitable mobile phones, that support this function ...
The concept
The Auto Start/Stop function helps save fuel. The system switches off the engine during a stop, e.g., in a traffic congestion or at traffic lights. The ignition remains switched on. The engine s ...
Automatic deactivation
In certain situations, the Automatic Engine Start/ Stop Function is deactivated automatically for safety reasons, such as when the driver is detected to be absent Malfunction The automatic eng ...