At a glance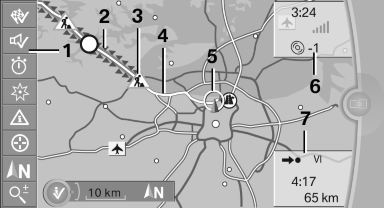 1. Function bar
2. Route section with traffic obstruction
3. Traffic sign for traffic obstruction
4. Planned route
5. Current location
6. Upper status field
7. Lower status field
Lines in the map
Streets and routes are displayed in different colors and styles depending on their classification.
Dashed lines represent railways and ferry connections.
Country borders are indicated by thin lines.
Traffic obstructions
Small triangles along the planned route indicate route sections with traffic obstructions, depending on the map scale. The direction of the triangles indicates the direction of the obstruction.
The traffic signs indicate the significance of the obstruction.
▷ Red traffic sign: the obstruction affects the planned route or direction.
▷ Gray traffic sign: the obstruction does not affect the planned route or direction.
Traffic bulletins
Planned route
After destination guidance is started, the planned route is displayed on the map.
Status fields
Show/hide: press the controller.
▷ Upper status field: time, telephone, and entertainment details.
▷ Lower status field: symbol for active destination guidance, status of traffic bulletins, time of arrival, and distance to destination.
Function bar
The following functions are available in the function bar: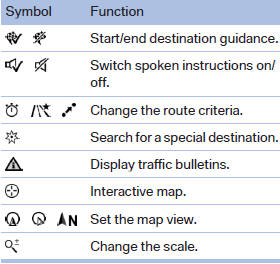 To change to the function bar, move the controller to the left.
See also:
Avoiding unintentional alarms
The tilt alarm sensor and interior motion sensor can be switched off together, such as in the following situations: ► In automatic car washes. ► In duplex garages. ► During tran ...
Calendar
Display the calendar Appointments during the last 20 and the next 50 days can be displayed. 1. "Office". 2. "Calendar" The appointments on the current day are displayed. S ...
Manual destination entry
General information The system supports you in entering street names and house numbers by automatically completing the entry and providing entry comparisons. Stored town/city and street names ca ...