At a glance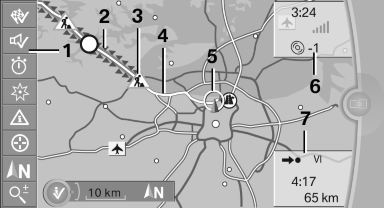 1. Function bar
2. Route section with traffic obstruction
3. Traffic sign for traffic obstruction
4. Planned route
5. Current location
6. Upper status field
7. Lower status field
Lines in the map
Streets and routes are displayed in different colors and styles depending on their classification.
Dashed lines represent railways and ferry connections.
Country borders are indicated by thin lines.
Traffic obstructions
Small triangles along the planned route indicate route sections with traffic obstructions, depending on the map scale. The direction of the triangles indicates the direction of the obstruction.
The traffic signs indicate the significance of the obstruction.
▷ Red traffic sign: the obstruction affects the planned route or direction.
▷ Gray traffic sign: the obstruction does not affect the planned route or direction.
Traffic bulletins
Planned route
After destination guidance is started, the planned route is displayed on the map.
Status fields
Show/hide: press the controller.
▷ Upper status field: time, telephone, and entertainment details.
▷ Lower status field: symbol for active destination guidance, status of traffic bulletins, time of arrival, and distance to destination.
Function bar
The following functions are available in the function bar: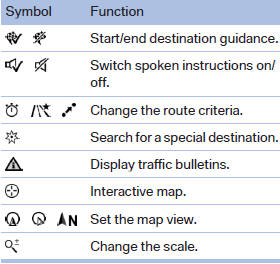 To change to the function bar, move the controller to the left.
See also:
General information
The navigation system can determine the precise position of the vehicle, with the aid of satellites and vehicle sensors, and can reliably guide you to every entered destination. Entries in st ...
Performance
For 2009, there's just one engine: a 3.0-liter six-cylinder that's good for 260 horsepower. It teams with either a six-speed manual or a six-speed automatic transmission. All X3s have all-wheel dr ...
Reprogramming individual buttons
1. Switch on the ignition. 2. Press and hold the interior rearview mirror button to be programmed. 3. As soon as the interior rearview mirror LED starts flashing slowly, hold the hand-held transm ...