Roof-mounted luggage rack
Note
Roof racks are available as special accessories.
Attachment
Follow the installation instructions of the roof rack.
Roof drip rail with flaps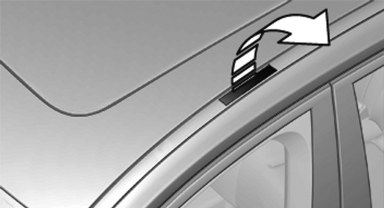 The anchorage points are located in the roof drip rail above the doors.
Fold the cover outward.
Loading
Because roof racks raise the vehicle's center of gravity when loaded, they have a major effect on vehicle handling and steering response.
Therefore, note the following when loading and driving:
▷ Do not exceed the approved roof/axle loads and the approved gross vehicle weight.
▷ Distribute the roof load uniformly.
▷ The roof load should not be too large in area.
▷ Always place the heaviest pieces on the bottom.
▷ Secure the roof luggage firmly, e.g., tie with ratchet straps.
▷ Do not let objects project into the opening path of the trunk lid.
▷ Drive smoothly. Avoid sudden acceleration and braking maneuvers. Take corners gently.
See also:
Messages
Information about messages. ...
Navigation data
General informationNavigation data and authorization codes are available from your BMW center. Navigation data are stored in the vehicle and can be updated. > Depending on the data volume, a dat ...
What to do if...
Information on suitable mobile phones Appointments, tasks, notes, text messages, or e-mails from the mobile phone are not displayed. ▷ The mobile phone is not capable of the missing functi ...