Filtering the message list
The message list can be filtered, when more than one type of message exists.
1. "Filter:"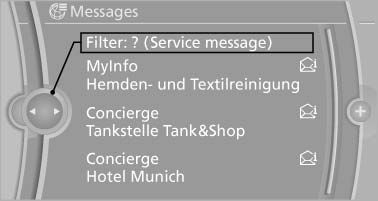 2. Select the type of message.
▷ "All"
All messages are displayed.
▷ "E-mail"
Only e-mails from the mobile phone are displayed.
▷ "Service message"
Only messages from the BMW Assist
Concierge service and My Info are displayed.
▷ "Text message"
Only text messages from the mobile
phone are displayed.
See also:
General information
Antifreeze for washer fluid Antifreeze is flammable. Therefore, keep it away from sources of ignition. Only keep it in the closed original container and inaccessible to children. Follow the in ...
Vehicle paint
Regular care contributes to driving safety and value retention. Environmental influences can act on the vehicle paint. Tailor the frequency and extent of your car care to these influences. ...
Service data in the remote control
Information on the required maintenance is continuously stored in the remote control. Your service center will read out this data and suggest the right array of service procedures for your vehic ...