Airbags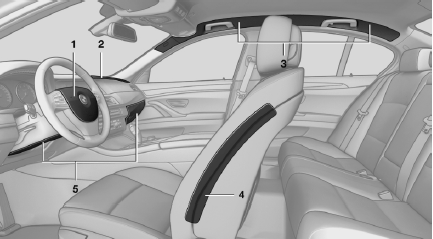 1. Front airbag, driver
2. Front airbag, front passenger
3. Head airbag
4. Side airbag
5. Knee airbags
Front airbags
Front airbags help protect the driver and front passenger by responding to frontal impacts in which safety belts alone cannot provide adequate restraint.
Side airbags
In a lateral impact, the side airbag supports the side of the body in the chest and lap area.
Head airbags
In a lateral impact, the head airbag supports the head.
Knee airbag
The knee airbag supports the legs in a frontal impact.
See also:
Requirements
▷ A suitable mobile phone is paired with the vehicle and connected. In some mobile phones, data access must be confirmed on the mobile phone. ▷ The time, time zone, and date, refer ...
Brake assistant
When you apply the brakes rapidly, this system automatically produces the maximum braking force boost. It thus helps to achieve the shortest possible braking distance during full braking. This ...
Socket for OBD OnboardDiagnosis
Position There is an OBD socket on the driver's side for checking the primary components in the vehicle emissions. Emissions ► The warning lamp lights up: Emissions are deteriorati ...