Locking the doors and windows
Rear doors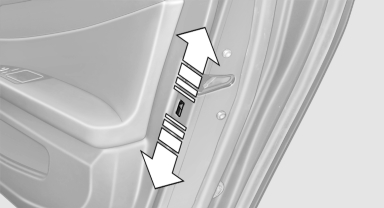 Push the locking lever on the rear doors down.
The door can now be opened from the outside only.
Safety switch for the rear

Press the button on the driver's door if children are being transported in the rear.
This locks various functions so that they cannot be operated from the rear: safety switch
See also:
Avoid high engine speeds
Use 1st gear to get the vehicle in motion. Beginning with 2nd gear, accelerate rapidly. When accelerating, shift up before reaching high engine speeds. When you reach the desired speed, shift i ...
The concept
BMW Advanced Diesel reduces nitrogen oxides in the diesel exhaust of your vehicle by injecting the reducing agent diesel exhaust fluid into the exhaust line. In the catalytic converter, a chemic ...
Active Protection - preventative occupant protection
The Active Protection safety package is making its debut in the new BMW 3-Series Sedan under the banner of BMW ConnectedDrive. This assistance system is activated shortly after the driver pulls aw ...