Child restraint fixing systems with a tether strap
Mounting points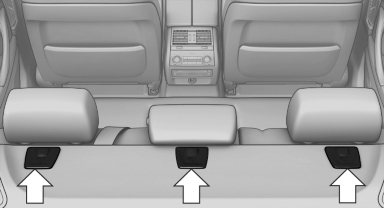 Mounting points
Depending on the vehicle equipment, there are two outer or three mounting points for child restraint fixing systems with a tether strap.

LATCH mounting eyes<> Only use the mounting eyes for the upper LATCH retaining strap to secure child restraint fixing systems; otherwise, the mounting eyes could be damaged.◀
Retaining strap guide
Retaining strap
Make sure the upper retaining strap does not run over sharp edges and is not twisted as it passes to the top anchor. Otherwise, the strap will not properly secure the child restraint fixing system in the event of an accident.◀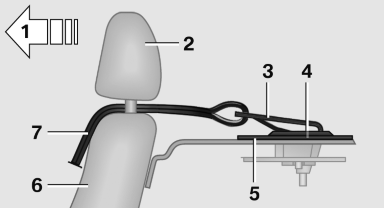 1. Direction of travel
2. Head restraint.
3. Hook for upper retaining strap
4. Mounting point/eye
5. Rear window shelf
6. Seat backrest
7. Upper retaining strap
Attaching the upper retaining strap to the mounting point
1. Remove the mounting point cover.
2. Raise the head restraint. Do not change the middle head restraint.
3. Guide the upper retaining strap between the supports of the head restraint.
Guide it over the head restraint of the middle seat.
4. Attach the hook of the retaining strap to the mounting eye.
5. Tighten the retaining strap by pulling it down.
6. Lower the head restraint.
See also:
Contrasting light surfaces imbue the rear with brio and energy
The strong horizontal lines of the rear - including rear lights in customary BMW L-shaped design positioned at the outer edges of the back end - accentuate the broad face of the wheels and wide tr ...
Selecting the sorting order of the names
Names can be displayed in a different order. 1. "Office" 2. "Contacts" 3. Open "Options". 4. "Display: last, first name" or "Display: first, last nam ...
Connecting
Connecting 1 Connections for audio/video cables. Watch the colors of the sockets when connecting. Yellow socket: video White socket: audio on left Red socket: audio on right 2 Power supply ...