Driver's door controls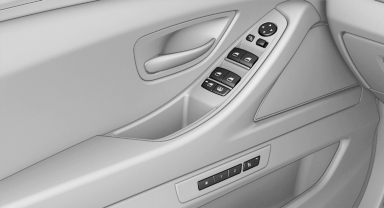 Driver's door controls
Roller blind for rear window

Press the button.
See also:
Automatic trunk lid operation
Opening The trunk lid opens fully. Press the button on the exterior of the trunk lid. Press the button on the remote control or in the driver's footwell. Pressing the button agai ...
Status display
The tire and system status is indicated by the color of the tires. A change in the tire inflation pressure during driving is taken into account. A correction is only necessary if this is indicat ...
Microfilter/activated-charcoal filter
The microfilter traps dust and pollen in the incoming air. The activated-charcoal filter removes gaseous pollutants from the outside air that enters the vehicle. The service center replaces th ...