Open trunk lid with no-touch activation
With Comfort Access, the trunk lid can be opened with no-touch activation using the remote control you are carrying.
A sensor detects a directed foot motion in the center of the area at the rear of the car and the trunk lid opens.
During opening, the trunk lid pivots back and up.
Ensure that adequate clearance is available before opening.

Do not touch vehicle
With the foot motion, make sure there is steady stance and do not touch the vehicle; otherwise, there is a danger of injury, e. g. from hot exhaust system parts.◀
1. Position in the center behind the vehicle.
2. Move foot in the direction of travel underneath the bumper and immediately back.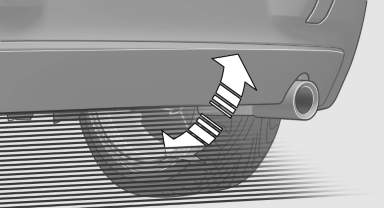 Open trunk lid with no-touch activation
The trunk lid opens, regardless of whether it was previously locked or unlocked.
See also:
Activating assistance functions
Several assistance functions can be active at the same time. Showing the parking aid lines "Parking aid lines" Pathway and turning lines are displayed. Showing the obstacle marking ...
Striking front end with precise contours and multi-faceted surfaces
The wedge shape of the new 3-Series' silhouette and its wider track (+ 37/47 mm at the front/rear) underline the sporting appearance of the new BMW. By clearly accentuating the width of the car, t ...
Air volume, manual
To be able to manually adjust the air volume, switch off the AUTO program first. Press the left or right side of the button: decrease or increase air volume. The selected air volume is shown o ...