Open trunk lid with no-touch activation
With Comfort Access, the trunk lid can be opened with no-touch activation using the remote control you are carrying.
A sensor detects a directed foot motion in the center of the area at the rear of the car and the trunk lid opens.
During opening, the trunk lid pivots back and up.
Ensure that adequate clearance is available before opening.

Do not touch vehicle
With the foot motion, make sure there is steady stance and do not touch the vehicle; otherwise, there is a danger of injury, e. g. from hot exhaust system parts.◀
1. Position in the center behind the vehicle.
2. Move foot in the direction of travel underneath the bumper and immediately back.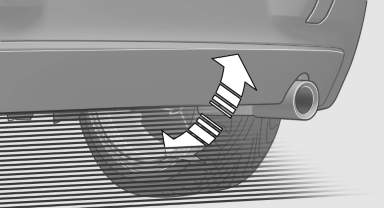 Open trunk lid with no-touch activation
The trunk lid opens, regardless of whether it was previously locked or unlocked.
See also:
DVD changer
Above the glove compartment Press the button. The cover opens automatically. To close: press the cover closed. Controls and displays 1 Empty DVD compartments 2 LED on DVD slot 3 Buttons for ...
What to do if...
Information on suitable mobile phones The mobile phone could not be paired or connected. ▷ Is Bluetooth activated in the vehicle and on the mobile phone? Activate Bluetooth on the vehicle ...
BMW ActiveHybrid X6
Like other so-called two-mode hybrids, the ActiveHybrid can accelerate gradually on electric power alone, up to 37 mph in the X6's case. All-wheel drive and a seven-speed automatic are standard. B ...