Calendar
Display the calendar
Appointments during the last 20 and the next 50 days can be displayed.
1. "Office".
2. "Calendar"
The appointments on the current day are displayed.
Selecting the calendar day
1. Select the date.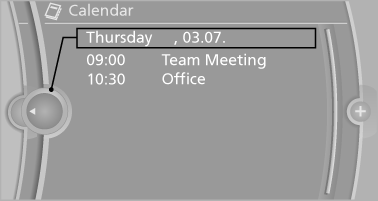 2. Select the desired day or date.
▷ "Next day".
▷ "Date:".
▷ "Previous day".
▷ "Today"
Display the appointment
1. Select the desired appointment.
2. Scroll through the appointment if necessary:
▷ Turn the controller.
▷

Select the symbol.
Using contact data
Contact data from appointments, tasks, text messages, e-mails and notes can be saved or selected.
Reading the appointment out loud
Read the appointment out loud.
See also:
CD changer
The BMW CD changer for six CDs is behind the left side panel in the cargo area. Removing the CD magazineTo insert or remove CDs from the CD magazine, you must first remove it from the CD changer: ...
Ignition off
Press the Start/Stop button again, and do not press on the brake pedal at the same time. All indicator lamps in the instrument cluster go out. To save battery power when the engine is off, swi ...
Tachometer
Always avoid engine speeds in the red warning field. In this range, the fuel supply is interrupted to protect the engine. ...