Filtering the message list
The message list can be filtered when more than one type of message exists.
1. "Filter:"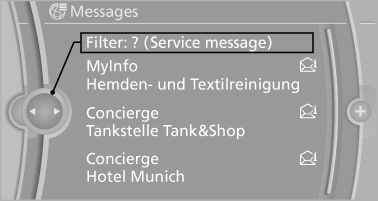 2. Select the type of message.
▷ "All"
All messages are displayed.
▷ "E-mail"
Only e-mails from the mobile phone are displayed.
▷ "Service message"
Only messages from the BMW Assist Concierge service, My Info and BMW Info are displayed.
▷ "Text message"
Only text messages from the mobile phone are displayed.
See also:
The concept
iDrive integrates the functions of a large number of switches. This allows these functions to be operated from a single central position. Make entries only when traffic and road conditions per ...
Managing a subscription
To be able to enable or unsubscribe from the channels, you must have reception. It is usually at its best when you have an unobstructed view of the sky. The channel name is displayed in the st ...
Performance
What sets the 5 Series wagon apart from the A6 and E-Class is the way it drives. Sure, its looks scream BMW inside and out, but so does the sweetly smooth acceleration coming from the twin-turbo s ...