Calls with multiple parties
General information
You can switch between calls or connect two calls to a single conference call. These functions must be supported by the mobile phone and service provider.
Accepting a call while speaking to another party
This function might have to be activated by the service provider and the mobile phone must be adjusted accordingly.
If a second call comes in during an ongoing call, a call waiting signal sounds where appropriate.

"Accept".
The call is accepted and the existing call is put on hold.
Establishing a second call
Establish an additional call during an active call.
1. "Telephone".
2. "Active calls".
3.

"Hold"
The existing call is put on hold.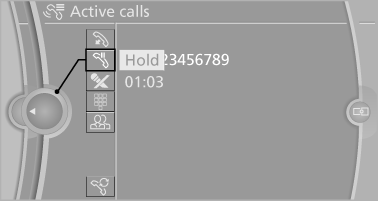 4. Dial the new phone number or select it from a list.
Switching between two calls, hold call
The active call is displayed in color.
The call on hold is displayed in gray.

"Swap calls".
The call on hold is resumed.
Establishing a conference call
Two calls can be connected to a single telephone conference call.
1. Establish two calls.
2.

"Conference call"
When terminating a conference call, both calls are ended. If one call is terminated by another party, the other call can be continued.
See also:
Pinch protection system
If the closing force when closing the glass sunroof exceeds a certain value, the closing movement is stopped, beginning at approximately the middle of the opening in the roof, or from the tilt ...
Coolant temperature
A warning lamp will come on if the coolant, and therefore the engine, becomes too hot. In addition, a message will appear on the Control Display. Check the coolant level ...
Closing the hood
Closing the hood Drop the hood from a height of approx. 16 in/ 40 cm. It must be clearly heard to engage. Hood open when driving If you see any signs that the hood is not completely closed ...