Entering a phone number
Dialing a number
When entering phone numbers, you can switch between entering letters and numbers.
Service numbers can be entered more easily, e. g. 1-888-BMW-CARD.
1. "Telephone".
2. "Dial number".
3. Select the digits individually.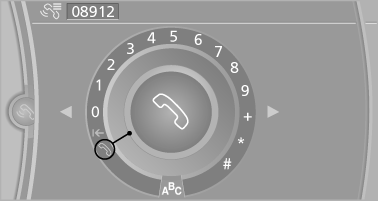 4. Convert to letters as required.

Select the symbol.
Select the letters individually.
5.

Select the symbol.

Select symbol to convert to numbers.
Phone numbers can also be entered by voice.
Only numbers can be spoken.
Letter/number assignment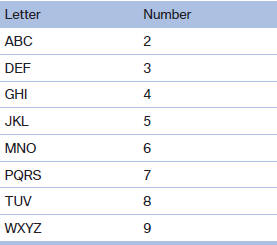 See also:
Dual-mass flywheel with centrifugal pendulum absorber
In all road speed ranges that are relevant in everyday driving, the engineers have achieved reductions in engine speed which have noticeable benefits for fuel consumption. For example when cruisin ...
Protective action
Airbags are not triggered in every impact situation, e.g., in less severe accidents or rear-end collisions. Information on how to ensure the optimal protective effect of the airbags ▷ ...
Switching off the engine
Procedure 1. Engage transmission position P with the vehicle stopped. 2. Press the Start/Stop button. 3. Set the parking brake. 4. Remove the remote control from the ignition lock Before driv ...