Pairing and connecting

Pairing the mobile phone
To avoid becoming distracted and posing an unnecessary hazard both to your own vehicle's occupants and to other road users, only pair the mobile phone while the vehicle is stationary.
1. "Telephone".
2. "Bluetooth® (phone)"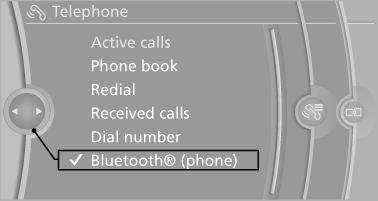 3. "Add new phone".
The Bluetooth name of the vehicle is displayed.
4. To perform additional steps on the mobile phone, refer to the mobile phone operating instructions: e.g. search for or connect the Bluetooth device or a new device.
The Bluetooth name of the vehicle appears on the mobile phone display.
5. Select the Bluetooth name of the vehicle on the mobile phone display.
6. You are prompted by the iDrive or mobile phone to enter the same Bluetooth passkey.
Enter the passkey and confirm.
or
Compare the control number in the display of the vehicle to the control number in the display of the mobile phone. Confirm the control number in the mobile phone and in the vehicle.
"OK"
7. Select the functions for which the mobile phone is to be used.
8. "OK"
If the pairing was successful, the mobile phone appears at the top of the list of mobile phones.
Four mobile phones can be paired with the vehicle at once.
If pairing was unsuccessful: what to do if.
See also:
Reporting safety defects
For US customers The following only applies to vehicles owned and operated in the US. If you believe that your vehicle has a defect which could cause a crash or could cause injury or death, you ...
Data memory
Your vehicle records data relating to vehicle operation, faults and user settings. These data are stored in the remote control and can be read out with suitable devices, particularly when the vehic ...
The concept
If the vehicle is equipped with Active Cruise Control with Stop & Go, the collision warning is controlled via the cruise control radar sensor. The system issues a two-phase warning of a dan ...