Playback
Loading the CD/DVD player
Insert the CD/DVD with the printed side up.
Playback begins automatically.
Reading can take a few minutes with compressed audio files.
Starting playback
A CD/DVD is located in the CD/DVD player or DVD changer.
1. "CD/Multimedia".
2. "CD/DVD".
3. Select the desired CD or DVD.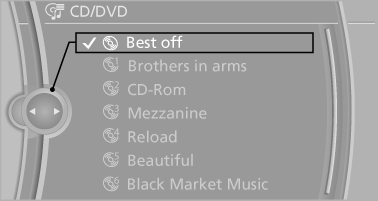 Playable formats
▷ DVD: DVD-ROM, DVD-R, DVD+R, DVDRW, DVD+RW, DVD-R DL, DVD+R DL, DVD audio (video part only), DVD video.
▷ CD: CD-ROM, CD-R, CD-RW, CD-DA, VCD, SVCD.
▷ Compressed audio files: MP3, WMA, AAC, M4A.
CD/DVD removal
1.

Press the button.
The CD/DVD is partially ejected.
2. Remove the CD/DVD.
See also:
Entering a street and intersection
1. Select "Street" or the displayed street. 2. Enter a street and intersection in the sameway as you would enter a town/city. If there are several streets with the same name: 1. Change ...
Interior rearview mirror, automatic dimming feature
The concept Interior rearview mirror, automatic dimming feature Photocells are used for control: ▷ In the mirror glass. ▷ On the back of the mirror. Functional requirement For pr ...
What to do if...
► The current transmission position cannot be displayed? The vehicle is located in an unrecognized region, is in a poor reception area, or the system is currently determining the position. ...