Playback
Loading the CD/DVD player
Insert the CD/DVD with the printed side up.
Playback begins automatically.
Reading can take a few minutes with compressed audio files.
Starting playback
A CD/DVD is located in the CD/DVD player or DVD changer.
1. "CD/Multimedia".
2. "CD/DVD".
3. Select the desired CD or DVD.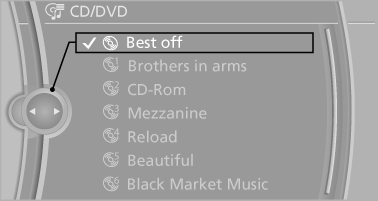 Playable formats
▷ DVD: DVD-ROM, DVD-R, DVD+R, DVDRW, DVD+RW, DVD-R DL, DVD+R DL, DVD audio (video part only), DVD video.
▷ CD: CD-ROM, CD-R, CD-RW, CD-DA, VCD, SVCD.
▷ Compressed audio files: MP3, WMA, AAC, M4A.
CD/DVD removal
1.

Press the button.
The CD/DVD is partially ejected.
2. Remove the CD/DVD.
See also:
Instrument lighting
Adjusting The parking lamps or low beams must be switched on to adjust the brightness. Adjust the brightness using the thumbwheel. ...
The concept
When the low beams are switched on, this system automatically switches the high beams on and off. The procedure is controlled by a sensor on the front of the interior rearview mirror. The assi ...
Functional requirements
▷ There are no external sources of interference nearby. ▷ To lock the vehicle, the remote control must be located outside of the vehicle. ▷ The next unlocking and locking cycle ...