All around the steering wheel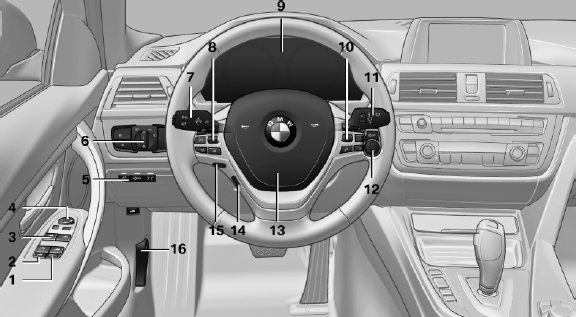 All around the steering wheel
1 Roller sunblinds
2 Rear window safety switch
3 Power windows
4 Exterior mirror operation
5 Driver assistance systems

Active Blind Spot Detection


Collision warning


Lane departure warning
6 Lamps


Front fog lamps


Parking lamps


Low beams


Automatic headlamp control
Daytime running lights
Adaptive light control
High-beam Assistant


Instrument lighting
7 Steering column stalk, left


Turn signal


High beams, headlamp flasher


High-beam Assistant


Roadside parking lamps


Computer
8 Steering wheel buttons, left


Store speed


Resume speed


Cruise control on/off, interrupting


Active Cruise Control on/off, interrupting

Increase distance


Reduce distance
9 Instrument cluster
10 Steering wheel buttons, right


Entertainment source


Volume


Voice activation


Business mobile phone preparation package
Professional mobile phone preparation package
11 Steering column stalk, right


Windshield wipers


Rain sensor


Clean the windshields and headlamps


12 Start/stop the engine and switch the ignition on/off


Auto Start/Stop function
13 Horn
14

Steering wheel heating
15 Adjust the steering wheel
16 Unlock hood
See also:
SPORT
Consistently sporty tuning of the suspension for greater driving agility with maximum driving stabilization. The program can be configured to individual specifications. The configuration is stor ...
Connecting jumper cables
1. Fold open the cover of the BMW starting-aid terminal. To do so, pull the tab. 2. Attach one terminal clamp of the positive jumper cable to the positive terminal of the battery, or to the cor ...
Bypassing a section of the route
Calculate a new route for a route section. 1. "Navigation" 2. "Route information" 3. "New route for" New route for 4. Turn the controller. Enter the number of kilo ...