Opening the favorites
If an activated favorite is played back, the following message appears for approx. 20 seconds:
"Favorite alert!".

"Favorites"
Select the symbol while the message is shown.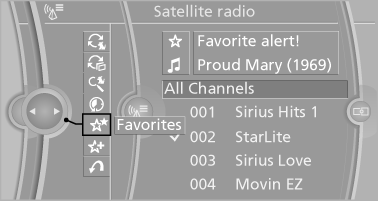 The displayed favorite is played.
If there is no message, the system changes to the My Favorites category. All favorites currently being broadcast can be selected from a list.
See also:
Tilt alarm sensor
The tilt of the vehicle is monitored. The alarm system responds in situations such as attempts to steal a wheel or when the car is towed. ...
General information
BMW Assist provides you with certain services, e.g., transmission of the position data of your vehicle to the BMW Assist Response Center if an Emergency Request has been initiated. Many BMW Ass ...
Range
After the reserve range is reached: ► A Check Control message is displayed briefly. ► The remaining range is shown on the onboard computer. ► When a dynamic driving style is ...