Opening the favorites
If an activated favorite is played back, the following message appears for approx. 20 seconds:
"Favorite alert!".

"Favorites"
Select the symbol while the message is shown.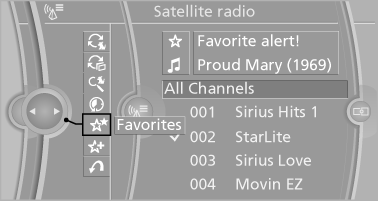 The displayed favorite is played.
If there is no message, the system changes to the My Favorites category. All favorites currently being broadcast can be selected from a list.
See also:
Selecting the sorting order of the names
Names can be displayed in a different order. 1. "Office" 2. "Contacts" 3. Open "Options". 4. "Display: last, first name" or "Display: first, last nam ...
Requests
Do not use the voice activation system to initiate an Emergency Request. In stressful situations, the voice and vocal pitch can change. This can unnecessarily delay the establishment of a telephon ...
Performance
For 2009, there's just one engine: a 3.0-liter six-cylinder that's good for 260 horsepower. It teams with either a six-speed manual or a six-speed automatic transmission. All X3s have all-wheel dr ...