Opening the favorites
If an activated favorite is played back, the following message appears for approx. 20 seconds:
"Favorite alert!".

"Favorites"
Select the symbol while the message is shown.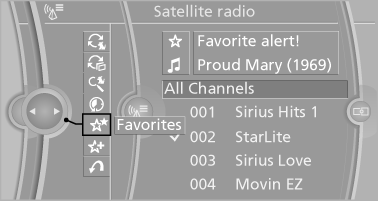 The displayed favorite is played.
If there is no message, the system changes to the My Favorites category. All favorites currently being broadcast can be selected from a list.
See also:
Sitting safely
The ideal seating position can make a vital contribution to relaxed, fatigue-free driving. The seating position plays an important role in an accident in combination with: ▷ Safety belts. ...
Tow-starting and towing
Transporting your vehicle Note Your vehicle is not permitted to be towed. Therefore, contact a service center in the event of a breakdown. Do not have the vehicle towed Have your vehicle tran ...
Opening the traffic bulletins
1. "Navigation". 2. "Map". 3. "Traffic Info". First the traffic bulletins for the calculated route are displayed. The traffic bulletins are sorted by their distance ...