Opening the favorites
If an activated favorite is played back, the following message appears for approx. 20 seconds:
"Favorite alert!".

"Favorites"
Select the symbol while the message is shown.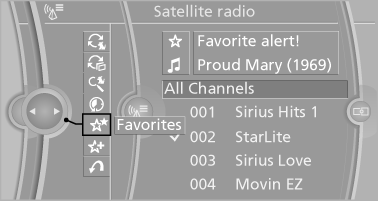 The displayed favorite is played.
If there is no message, the system changes to the My Favorites category. All favorites currently being broadcast can be selected from a list.
See also:
CD/multimedia
CD/DVD When the same audio source (front CD/DVD player, rear CD/DVD player, DVD changer) is selected in the front and rear, the same material is played. Operation is the same as for the front ...
Exterior
Visual updates for 2012 affect the 128i more than the 135i. The 128i carries revised circular fog lamps, replacing last year's horizontal lamps. Outboard of the fog lights, vertical slats improve ...
My contacts
General information List of all contacts. ...